This article is outdated. We have already published a full review.
Social networking makes it on the S-Class
LG has finally added native Twitter and Facebook clients on the S-Class. They are nicely touch optimized and have the same look and functionality as the respective apps for the iPhone and Symbian.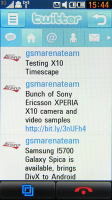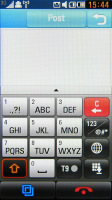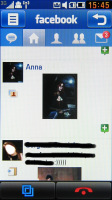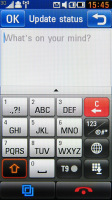 The Twitter and Facebook native clients
Multi-touch gallery as usual
The LG GD880 Mini offers two gallery modes depending on the handset's orientation. In portrait mode images and videos are displayed in a grid sorted by date, type or name, while in landscape mode you get a nice spatial view.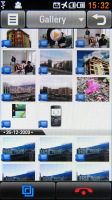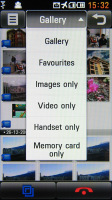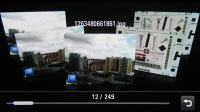 The image gallery grid and spatial view
The landscape 3D gallery has been changed yet again since the LG BL40 New Chocolate. While in the original S-class interface you only had three images visible at a time, the BL40 had a lot more with options to change the viewing angle and zoom level. Now the Mini shows only 5 pictures at a time within a virtual arc containing all the images in your handset. There are no viewing options available or different arcs sorted by month. Performance-wise it's really ok - it's as fluid as it gets.
Thanks to the multi-touch enabled capacitive touchscreen, you can zoom in on images with the pinching gesture that you may have seen on the iPhone or the HTC Hero.
The opened images also rotate automatically thanks to the built-in accelerometer.
Apart from the standard options in the standard gallery such as rename, delete, print, send and info, there is also a slideshow mode. You can choose the time interval, the display order (shuffle or not) and the transition effect.
Cool music player
The music player has also been changed since the last time we saw it in the BL40 New Chocolate. It now has an independent "now playing" screen with a nice spinning vinyl for visualization. It uses the album art if available, or a default cover if not.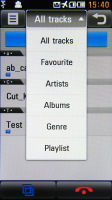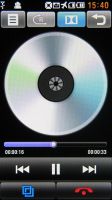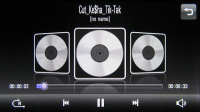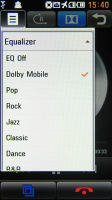 The music player • landscape view • equalizers
Turning the phone sideways takes you into landscape mode where you have all tracks in a cover flow similar to the iPhone's. In both modes you have the usual music controls at the bottom of the screen.
Equalizer settings are also available. While most of them are pretty standard, you surely will notice the Dolby Mobile, so typical of LG.
The video player has full DivX/XviD support
While the music player brings no functional changes, the video player is a big surprise. It now supports all kind of DivX and XviD videos up to WVGA resolution.
It managed to play all the DivX/XviD movies we threw at it with no dropped frames or any kind of problems.
Dolby Mobile is available in the video player too and is turned on by default. And just so you know, its potential is best appreciated on the headphones.