LG trademarked a whopping 13 Q-series phone names back in May. Now it becomes clear that some of them will be 5G-enabled as more naming details have surfaced. Specifically, the LG Q92 5G (LM-Q920N), which will likely be a lower cost alternative to the LG Velvet 5G.
It seems that it was going to be called "LG Q9 2020 5G" initially, but the company changed its mind. There's more, looking at the list of model names it's clear that there will be devices for KT and LG U+ (two of the top three carriers in South Korea).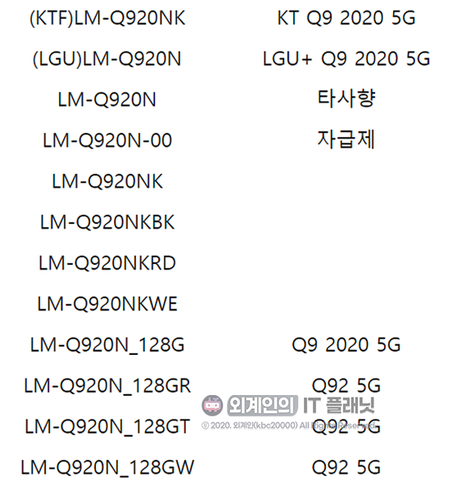 The "128G" likely refers to the storage capacity, 128GB, while the letter after that should be the color – Green, Red, White and... Teal? Plus, Black most likely for the model without an extra letter.
LG's trademarks cover a wide range of Q-series models – from Q3x through Q5x and Q6x to the top of the line Q9x. This includes the Q93, which will be the model for next year if this naming scheme makes any sense.
Source (in Korean)
Well i am dont think so but ets see. For nokia brand i always had a very high hopes.
If LG wants to keep using Snapdragon chipset, I can easily assume they would be using SD 690 and it would be far cheaper than the Velvet. Heck, even Nokia is thinking of a price bracket somewhere between $300 to $500 for the SD 690 phone.
ADVERTISEMENTS