Limited edition Mondaine Helvetica 1 smartwatch now up for pre-order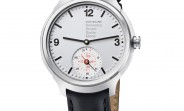 Fans of Swiss watches may have been a bit apprehensive about smartwatches since they mostly focus on the digital side of things. The Withings Activite was a step in a more analog dimension (and with the coveted "Swiss Made" label), but now there are more options with the Mondaine Helvetica 1.
Mondaine is behind the iconic Swiss railway clock, but the Helvetica 1 design is different. It has a brushed stainless steel casing (44mm), a sapphire crystal and a genuine leather bracelet (20mm wide at the lug). It's water resistant up to 30m / 100ft / 3atm.
The watch features a quartz movement and the MotionX activity tracker with Smart Sleep Alarm. The watch keeps track of daily steps, distance traveled and calories burned, the inner dial shows your progress. The Helvetica 1 also tracks your sleep (just put it under your pillow, it will record deep sleep, light sleep and waking times). The alarm can wake you during the lightest phase of your sleep cycle within a given window for the best results.
You'll need an Android 4.4+ or iOS 8+ smartphone to run the Motion X app. And don't worry about battery life – unlike other smartwatches (even the Withings), the Mondaine Helvetica 1 is good for 2+ year battery life.
You can pre-order one now and if you do it by September 6 you'll get $100 off the regular price of $950. Only 1957 watches will be made with "1 of 1957" engraved in red on the side of the watch.
h
Yup. But it is a dress watch. You can't wear smartband for business or occasions. It is also a watch with a high quality quartz movement. And its battery can last 2 and a half years.
J
Nice. Looks a lott like the Withing Activie take on smartwatches. More an activity tracker than full blown smart device, but I like it. Sure, it's expensive (more than a chinese rubber bracelet), but an Omega, Rolex are way beyond the 950$ of that on...
E
So it basically offers functionality like a less than $20 xiaomi smartband in a watch body for $1000...