Major update enables PlayStation 5's M.2 drive, improves game streaming and more
The Sony PlayStation 5 has a standard M.2 slot for additional storage, but that was disabled at launch. The second major software update for the console finally enables this option and brings other major improvements to the console itself as well as related apps.
Let's start with the major new feature, the storage upgrade. Back in April Sony enabled USB storage, but external drives are too slow to play PS5 games (PS4 games do work, though). Now if you need more room you can add an M.2 drive, as long as it meets certain requirements.
First, only NVMe drives are supported, so cheaper, slower SATA drives are a no-go. In fact, some games may not be playable even with a fast 5,500 MB/s drive (though that sounds more like Sony covering for potential future issues). Finally, M.2 drives up to 110 mm in length are supported (i.e. M Key Type 22110), but if they have a heat sink, you need to make sure it will fit inside the console. Check out this page for a detailed description of the requirements. And here's how to install the drive:
Once all that is done, you will be able to move games between the PS5's original storage, the M.2 drive and any attached USB drives. This will allow you to keep more games in a playable state instead of shuffling them to and from USB storage.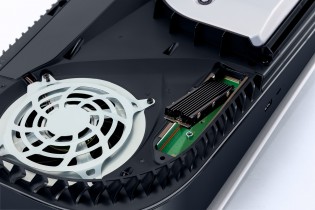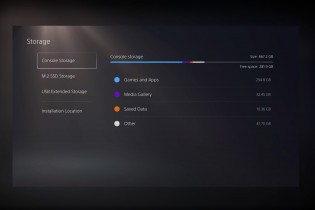 Installing an M.2 drive in the PlayStation 5 • Moving games between the various drives
Another big change is that 3D audio can now be played through stereo speakers on a TV. To do that, the console will need to measure the acoustic qualities of the room, which is done using the microphone on the PS5 DualSense controller. If you were using a Pulse 3D Wireless Headset to enjoy 3D Audio, you now have equalizer settings in Sound Controls.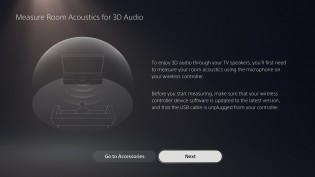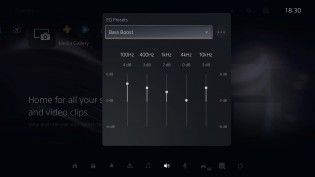 Setting up 3D audio for your TV speakers • Equalizer settings for Pulse 3D wireless headsets
This update also improves remote play. PlayStation Now subscribers now have the option to choose between 720p and 1080p streaming. There is also a test tool to help you detect any issues with your network connection.
PS Remote Play now works over a mobile data connection, but you need to be wary of your data cap. This is where the streaming quality setting comes in with several options: Low (uses up 1.6 GB an hour), Standard (2.5 GB/hr), High (5.2 GB/hr) and Best (6.8 GB/hr). This last option is available only if you have a PS5 or PS4 Pro (yes, this feature is available for the PS4 as well).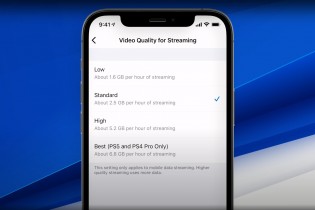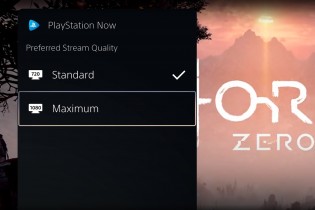 PS Remote Play now works over your phone's cell data connection • PS Now streaming quality settings
Also for the phone, you can still watch your friend's broadcast over Screen Share by joining the voice chat in the PlayStation app. There are even more improvements in this update, watch the video below for a quick introduction:
The global rollout for this update starts tomorrow, though note that the Screen Share feature in the PlayStation app will arrive next week (September 23). Check out Sony's blog post (follow the source link) for more details on the new features.
D
use your brain before replying with nonsense
?
You can play games from your external HDD or SSD, but only ps4 games. To be able to play a ps5 game they MUST be installed on a supported gen4 nvme ssd.
D
no sata ssd support wtf?! I can game just fine even using an hdd
ADVERTISEMENT