There are two interesting bits of news for existing and future owners of the Xiaomi Mi Max 2 in India. According to one user on MIUI forum, Xiaomi is now rolling out nightly build of MIUI 9 to Mi Max 2 devices in India.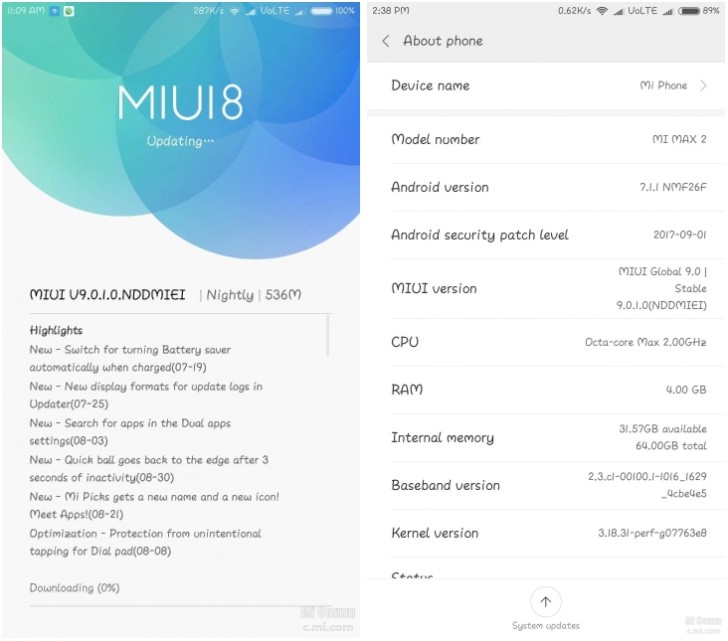 According to Xiaomi, this is a staged rollout to a small group of users for now, so not everyone will be getting it (our own device is still on 8.5.9.0). Still, with the launch of MIUI 9 just three days away, it won't be long before the stable release starts rolling out officially.
For prospective Mi Max 2 buyers, the phone is now a bit more affordable. Xiaomi has slashed the prices by INR 1000 ($15) on both the 32GB as well as the 64GB models, bringing them down to INR 13,999 ($215) and INR 15,999 ($246), respectively.
I am using max 2 on MIUI 9 beta version how i get the stable version.
$215? Xiaomi should bring this phone to the United States; it is the ultimate media consumption device! Of course, Redmi Note 5 will introduce Xiaomi so I've heard.
The biggest issue I see is you have to restart your mobile when you move away from WIFI zone to get 4G/3G internet from your mobile. Not sure when they will fix it.