Microsoft may be out of the smartphone game but is still doing tablets if only with the desktop Windows OS. The company just launched a 10" Surface Go with Windows 10 out of the box, although with its lite S flavor. It has the same form factor as the Surface Pro but is cheaper, lighter, and to some extent, prettier.
The Surface Go has a 3:2 screen with 1800 x 1200 pixel resolution and is in Microsoft's words the thinnest Surface ever. It weighs a bit more than 520 grams, making it heavier than an iPad but lighter than its bigger and mightier sibling - the Surface Pro.
On the inside, there is a Pentium Gold 4415Y processor, and RAM is either 4 GB or 8 GB. The storage solutions is 64 GB eMMC or 128 GB SSD. Microsoft currently offers the Surface Go in Wi-Fi-only flavor with LTE version coming "later this year".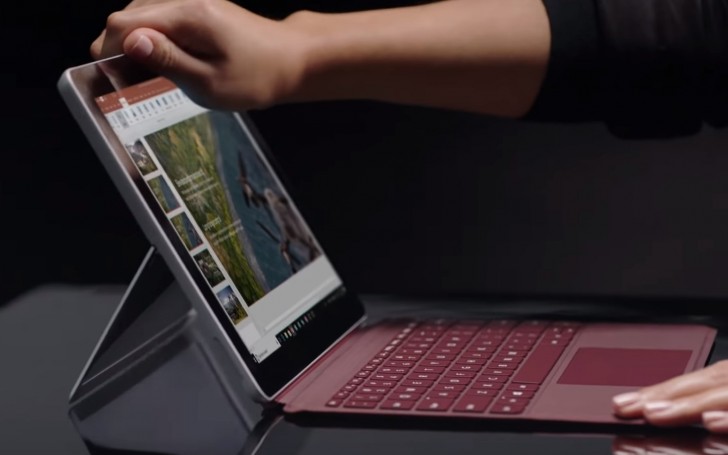 Arriving with Windows S means there is only Edge browser and Microsoft Store for downloads, but you can update to the full Windows 10. Microsoft will also be offering a few nice accessories for the new tablet - a $35 wireless mouse, a $99 Type Cover, and the $99 Surface Pen.
The price for the actual Surface Go starts from $399 for the 4/64 GB version and goes to $549 for the 8/128 GB variant. Pre-orders have opened, but actual shipping starts in August.
F
Really? This is what you stoop to? Being factual means you go crying and say I must be a fanboy? Grow up.
F
Look up what an ad network is. It's not synonymous with running advertisements. Apple is not running an ad network. Google, Facebook and Microsoft are.
?
Uh apple ads exists, so do store recommendation and those offers I keep getting based on my preference. Wonder how does apple know what I prefer since according to you it doesn't collect any user data...
ADVERTISEMENTS