So-called hybrid watches are often just glorified fitness trackers. The Misfit Command may be the first to combine the classic looks of an analog watch with some more advanced functionality than buzzing when your phone is ringing.
The command can vibrate on call, of course, but the sub-dial at 6 oíclock offers more info. The hand will point at an appropriate icon when an event occurs Ė a call, text, notification and so on (itís customizable).
When thereís nothing of note, the hand indicates your progress for the day. The watch can track steps taken, distance traveled and calories burned. Itís also waterproof up to 50m (it tracks swim distance and counts laps) and can monitor the duration and quality of your sleep.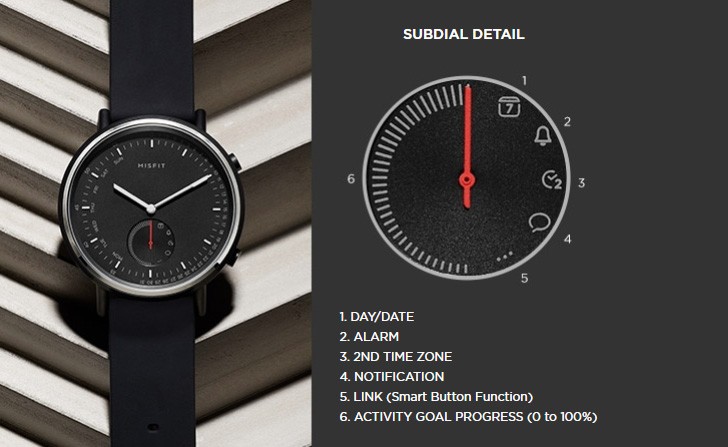 With the Smart button, you can trigger simple actions on your phone Ė control the music player, snap a selfie and so on. It can also switch to a second time zone. The Misfit app will making sure the watch is set to the correct time.
All this and you get a full year of battery life (thanks, Bluetooth LE). Itís a standard CR2430 coin cell.
Anyway, the Misfit Command itself has a 44mm case made out of stainless steel (itís 15mm thick). The watch uses standard 20mm straps, so you can swap them out whenever you like. It comes in Black, Silver and Gold. The Silver version is available with a metal bracelet, the others come with a sport strap.

You can pre-order the Command now, it will ship in a week (November 28). It costs $112 / Ä150 with a sport strap. The metal bracelet brings the price up to $128 / Ä170 -it seems like thereís a promo in the US.
M
This is nice watch. But still my favourite hybrid watch is Garmin Vivomove HR. I guess this is future of smartwatches for Android users since google isn't really developing their OS for smartwatches.
S
I am really liking the design, spec, and most importantly the price. Hopefully it will be a good product with good reviews. Looking forward to buying it if the price holds and there is no better alternative.