Today, Digital Trends offers some insight on a new Wear OS-powered smartwatch from Mobvoi. The company's latest smartwatch is the Mobvoi Ticwatch Pro, a Wear OS-powered wearable centered around fitness features like GPS and a built-in heart-rate monitor and NFC for Google Pay.
Digital Trends spotted a different landing page when it went to Mobvoi's website. The page teased a new TicWatch Pro that was "Powered by Verizon" but the teaser has since been taken down. The teaser strongly suggests that a new variant of the TicWatch is coming with support for Verizon's 4G LTE network.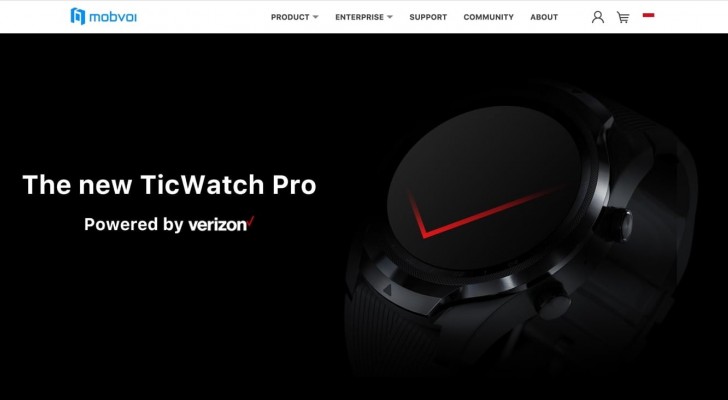 We don't know any other details about the new variant of the watch, but we imagine it's a 4G variant of the existing smartwatch. The report speculates the possibility of a brand new watch, citing the wording of the teaser as "The new TicWatch Pro. A 4G-enabled variant of the watch could make and answer calls, send text messages and perform other tasks without the need for a smartphone to be tethered via Bluetooth.
The TicWatch Pro is the perfect Wear OS smartwatch to bring a 4G variant since it uses dual display technologies. An OLED panel controls Wear OS as normal, but it switches to an ambient LCD display that consumes less power to really stretch time between charges.
A side-effect of this technology is the need for a larger watch body and display, so we wonder if adding 4G connectivity will require the watch to be even thicker still, as is usually the case between Wi-Fi and cellular variants of other smartwatches.
The Wi-Fi/Bluetooth version of the TicWatch Pro currently goes for $249 so you can expect a Verizon-enabled variant to cost more than that. If you don't already have one, a dedicated smartwatch line for Verizon customers would set you back $10 a month.
Another stupid thing for fitness and showing date and time which any phone can do as well. But this useless thing will have maybe a 8 hours of battery life maybe less. Just waste of money. My honest personal opinion.