A new Samsung has just popped up on Geekbench with model name SM-A750FN. The handset is yet to be announced, but the listing reveleased some of its key specs.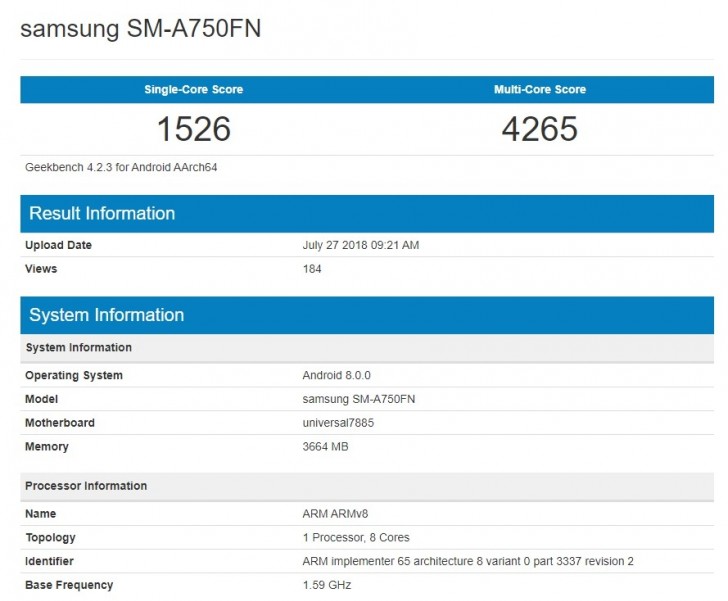 The phone was sporting the Exynos 7885 SoC that has two performance cores at 2.2 GHz and six more for efficiency at 1.6 GHz. The RAM on the SM-A750FN is 4 GB and the phone is listed with Android Oreo 8.0. These specs match the Galaxy A8+ (2018), suggesting the new phone might be different in some other aspects like screen size or camera.
The Samsung Galaxy A8 (2018) carries the SM-A730xx model designation, while its predecessor Galaxy A7 (2017) was going by SM-A720xx. Given how the number 4 is considered unlucky in Korea, the SM-A750FN is the logical successor of the Galaxy A8 series. The SM-A750FN might be called Galaxy A9 (2018) but might also be an addition to the A8 lineup for specific markets.
L
Luckily Samsung didnt die and luckily Note FE was born and luckily public perception is very positive after S8 was launched. So, yeah lucky 7.
7 is actually a lucky number, and in my culture the number that represents Nature. As for note 7's debacle it's just the faulty design of the phone. (And no, it has nothing to do with their edge display)
Yordan. It's rare to see the staff themself reply to such a simple comment! Kudos! ^_^