A new Google Search feature has been spotted in the wild. As per those who are seeing it, the feature lets you compare specifications of two devices, displaying a neat comparison chart in output.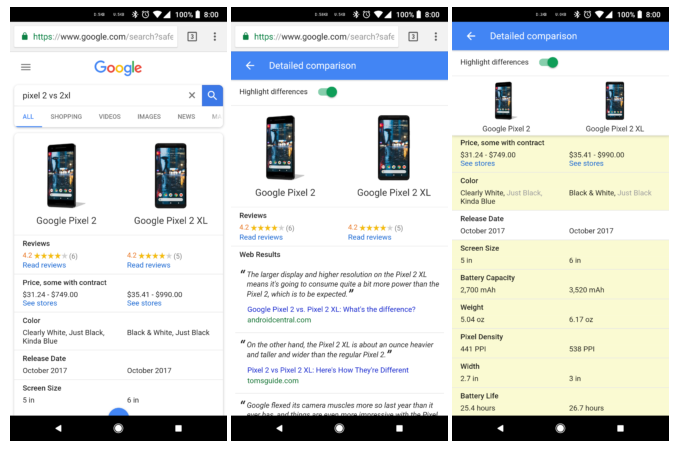 As clear from the screenshots above, you just need to put in a query like 'Pixel 2 vs Pixel 2XL,' and Google will display a quick comparison chart. You can expand the chart by hitting the blue button, and there's even an option to highlight differences.
The Mountain View, California-based company is yet to officially announce this feature (which reportedly works for only two devices at the moment), so more details are awaited. In case it's live for you, let us know your experience in comments below.
Today is 9th of November of 2017 and this new search feature isn't working. Because I grabbed my smartphone, went into Google page and I wrote "Pixel 2 vs Pixel 2XL", but I didn't get the same result as shown in this article. Did I miss something. . ...
?
Hoping this will list actually important specs and won't be like processor: 8 cores camera: 12 MP RAM: 6 GB display: 1080 x 1920
ADVERTISEMENTS