The French carrier SFR published some information on the yet unannounced Palm Pre 2. According to the published ad, the new phone will keep the recognizable curved design, but will have a 1Ghz CPU.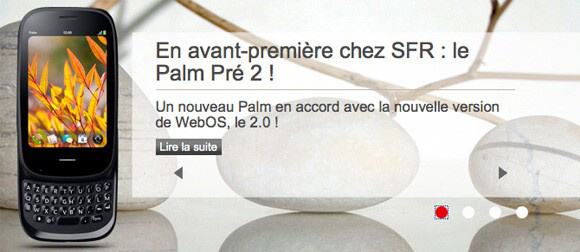 SFR already removed the article from its website, but the information has already escaped in the wild. Palm Pre 2 should pack a Cortex A8 1GHz processor and 512MB RAM (like Pre Plus). It is supposed to run on the new webOS 2.0.
We don't know if keeping exactly the same design is a good idea, but there is nothing certain yet. We'll hold our thoughts until the official announcement.
Update: Live pictures of Palm Pre 2:
D
Awesome!!!! If I get a Palm Pre 2 will it have the same great hardware feature of overheating to death thus burning my hand or instantly scratching the mirrored back or the headphone jack stop working. I had 8 Palm pre's replaced in the first 8 mont...
I
Buy an iPhone and stop posting if you want a useless full touch device. This phone is for users who which a business qwerty phone with multimedia capabilities, not for kiddies.
ADVERTISEMENTS