New Samsung teaser basically confirms that the Galaxy S7 will be water resistant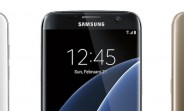 Samsung will officially introduce the Galaxy S7 and Galaxy S7 edge this Sunday in Barcelona, as you may know. And as we get closer to that moment, the Korean company is teasing more and more aspects of its upcoming flagship smartphones.
One of the things that has been rumored to return to this generation of the top of the line Galaxy S devices after an absence in last year's S6 and S6 edge is water resistance. This did feature in the Galaxy S5 from 2014, and along with microSD card support will be making a comeback with the S7 line.
Change your idea of what a phone can handle on 2.21.16. #TheNextGalaxyhttps://t.co/saU2TutJ5T

— Samsung Mobile (@SamsungMobile) February 17, 2016
That fact has pretty much been confirmed by the teaser video you can see above, which originates at Samsung's official Twitter account. There's no point in focusing on the fact that people sometimes drop their phones in water, unless the Galaxy S7 and S7 edge can withstand such an encounter. Now all that's left is for us to find out the exact IP code for the new models, which will tell us how long they can be safely submerged. But we assume that's a tidbit that will only be officially revealed on February 21.
H
well claim warranty then you will have issues, over at WP there is a nic ethread on how sony explain the water proofing and how to make it water proof/ resistant..... bit of a shock really.