Huawei Nova 3 leaked specs and images leave nothing to the imagination Comments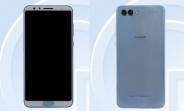 U
AnonD-511744, 28 Nov 2017the pb of huawei product that they dont have a nice software updating support after one year ... moreI have original Nova. And last month i had an official OTA for it. Now my android patch level sayes - 1st of January 2018. Running official android 7.0 and 5.0.1 EMUI.

Of corse that EMUI or android version wont be updated anymore.. cuz of modern marketing. Everybody uses this tactic. But huawei after 2Years is still pushing security updates to my phone and i love it!

Previously i had 2 HTC phones(one mid rage, one top shelf model) and with htc you'l get support for 1st year after that htc just forgets about those ''old'' models.... And pushes consumers to buy NEW NEW NEW!

So with HTC i had a urge to root after 1st year to get newer android and security patches. With Huawei im still unrooted :) and dont want to root!
D
the pb of huawei product that they dont have a nice software updating support
after one year we dont recive any andoird update
in the other side forexample sumsumg j1 mini ( 2015) still getting secutrity update
and j5 still have android update !!!
and not talking about nokia that getting update evry month and orero soon on all product !!!

huawei marketing staff have to rethink on his "android update" stratgey
F
Anonymous, 22 Nov 2017I am really wondering how come there is dual selfie cameras as 20 MP + 2 MPThat's for Bokeh Effect men ..... chill out
D
Anonymous, 22 Nov 2017I am really wondering how come there is dual selfie cameras as 20 MP + 2 MPdo not wonder buddy
this is just shi..y phone with 400 euro pricing, just for plunder people, whom do not search in internet about the device want to buy it