Huawei teases noise cancelling earphones for India, likely the Freebuds 3i Comments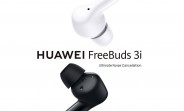 ?
Anonymous, 21 Jul 2020They look good. Battery life is average for TWS with ANC. Don't know how good the sound... moreI bought Freebuds 3i two weeks ago - the sound is really good. I really like that ANC is working during calls too - not only on my side but it cancel noise from output as well - so the other side can hear me well even in noisy environment.

Friend of mine compared my 3i to Galaxy buds (he own for more than 1 year) and Sony WF-1000XM3 (he own for 9 months) - he told me that 3i sounds better than Galaxy buds, ANC in 3i works really well (Sony is better, but not adequate to price difference) - in addition ANC in Sony is not working during calls.
3i holds in ears better than Sony because of higher Sony weight and volume.
Galaxy buds as well as Sony are useless for calls compared to 3i - he was shocked how clearly he can hear me while I called him using Freebuds 3i

If an average battery life is not a problem - Freebuds 3i is a steal at that price imo.
D
Except watches nothing of huawei is available in india. I think even before huawei will think of any more products taiwan companies and google franchises will flood india and huawei will be long forgotten. They keep anouncing and launching products but never available. No tv no p40 pro, laptop and nothing seems to be available. Huawei is becoming another letv..hope some people atleast remember letv..