Samsung highlights the key features of Galaxy Buds+ and Galaxy Buds Live in new infographic Comments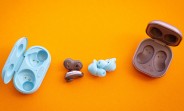 Z
Galaxy lkver, 11 Nov 2020I owned a pair of the original galaxy buds. Then, when I purchased the plus version. I gave m... moreI get the ear fit problem but the NC, they sayd it wouldn't block all noises and would be weak couse they are not good for passive block
S
I owned both the plus and live, and I kept the live and gave the plus to my fiance. These are very discrete and don't look awkward during web calls. Also I find call quality and audio quality superior. Only con would be the difference in battery life and won't fit small ears too well.
J
Nick.B, 11 Nov 2020They are big AND ugly. Magic how they accomplished both things together. I am sorry I went for... moreThey are tinny awful sounding airpods have had both galaxy buds far better deep sound but sennheiser momentum true wireless 2 are the best ever
G
I owned a pair of the original galaxy buds. Then, when I purchased the plus version. I gave my old pair to my daughter. When the live pair came out, she wanted to buy those. She bought them and returned them within a week because of 2 reasons. The fit of the live buds hurt her ears after a half hour of wearing, and the "noise canceling" option, wasn't as canceling at they made it seem in the reviews. She returned them and purchased the plus version like my current pair, and absolutely loves them. I tried her live pair on before returning them, and even though they fit me better, the sound was great, but the noise canceling wasn't impressive to me, and my ears needed a rest after about 45 minutes because they were getting sore. My plus model feels a lot more comfortable. Just my opinion.
N1196368
They are big AND ugly. Magic how they accomplished both things together. I am sorry I went for the best (airpods pro) and yes they are more money because they are so much better. Smaller, lighter, beautifully crafted, and other nice things.
Oh and soon we will have replacements of airpods pro. Can't wait the new ones will be even more amazing so I will def upgrade. Phone - Android. Watch and headphones - Apple with both hands!
s8924
I paid 100E for the Buds+ just a few days before the Live were launched. I think anyway that in-ear headphones don't benefit much from ANC as you get a lot of reduction just due to the ear seal.
m
I had both of them. Now I have only Live. Major thing for me was that Live offer more confort, I don't feel them in my ears at all, wich was not the case with the Buds+. Sound...for me it is very good for both but Live have more pleasant sound for me, much punchier than my girls AirPods Pro and Buds+. At least for me. All the best to all.