A rather disappointing camera
Nokia 6270 is equipped with a 2 megapixel camera with a LED flash. The maximum resolution is 1600 x 1280 pixels. Lower resolution as well as three types of compression quality is available, too.
The phone takes pictures in horizontal mode using the camera right side button as a shutter release key or the central OK button of the D-pad. Strangely enough, some of the menus are operated in vertical mode. The camera is rather slow and a shot at the maximum quality and resolution takes about 9-10 seconds from pressing the shutter key to actually saving the picture. At the 1280 x 960 pixels resolution (1.3 megapixel) the same operation takes about 8 seconds to complete.
Nokia 6270 offers a night mode, a self-release timer, and an image sequence shoot mode. White balance is automatic. A good thing is the option to turn off the camera shutter sounds.



Camera interface: viewfinder and camera menu
Now, as far as the picture quality is concerned, the best we can say is that it's about average. We've seen far better 2 megapixel cameras in mobile phones. The image colors are quite unnatural and the pictures are overprocessed by some noise reduction algorithm, which applies water color effect to the objects located far away from the camera - and furthermore they are seriously out of focus. Generally speaking the camera has serious issues (at least in our unit). There is no autofocus of course; there isn't even a dedicated macro mode. The result is that pictures taken from less than around 80 cm are out of focus. What's worse is that objects that are more than 3 to 5 meter from the camera seem almost out of focus. Faces of people shot from around a 10 m distance are unrecognizable. Furthermore, all interior pictures suffer from strong color blotches despite the abundant light both from natural and artificial sources.
Videos are captured at the only available QCIF (176 x 144 pixels) resolution. The quality of Nokia 6270 video is average and the available resolution is rather outdated these days.
Wide connectivity options
Nokia 6270 has a quad-band GSM support (850MHz, 900MHz, 1800MHz, and 1900MHz) plus GPRS Class 10 and EDGE Class 10 for fast data transfers and streaming 3gpp content. The phone has a XHTML browser with WAP 2.0 support. The browser is simple, with three types of font size available. That said, we must point out that it deals alright with general HTML sites and has no problem in fitting them on the screen. Unfortunately, you cannot use the browser in a horizontal mode.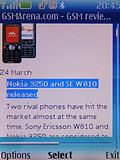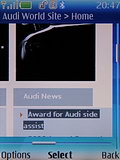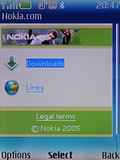 Nokia 6270 web browser: GSMArena.com, Audi.com, Nokia.com
Nokia 6270 can also serve as a modem for establishing Internet connection from PC. The phone gets connected to a PC through Bluetooth, via the Infrared port, or by USB cable. Connection parameters can be configured manually, but you will save time if you use the Internet connection program from PC Suite.
The handset has an Infrared port and Bluetooth connectivity for close communication with other devices. The phone supports the following Bluetooth profiles: Bluetooth Dial-Up Networking, Bluetooth Serial Port, Bluetooth File Transfer, and Bluetooth ObjectPush.