Gallery could have done better
No significant changes in the gallery were made with Nokia 6500 classic. We personally aren't great fans of how the gallery looks in Series 40 models but, as it's used as a file manager at the same time, it is understandable. For example you do need a few extra presses to get to your music files, as there is no file filtering. The Gallery relies on your putting the right type of files in the right folder.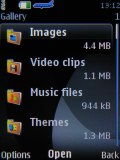 Series 40 gallery is practically a file manager too
There are three different views for the gallery: list with details, list and grid. They all have their advantages and disadvantages. Once you pick a picture you can zoom on it to see more detail. Zooming itself is quite slow and doesn't allow a picture to be zoomed in too closely, so actually it is not much of a help. The pictures can also be viewed in fullscreen and can be edited with the built-in picture editor. The latter however offers very limited options, but considering the fact that there are very few users that actually use a picture editor on their phones, this is understandable.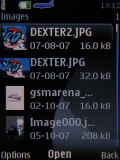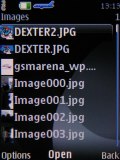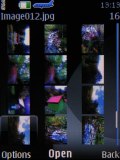 Different gallery views allow different information for the pictures to be seen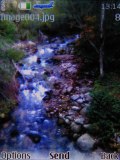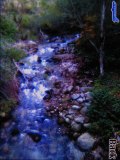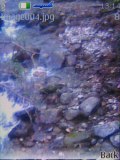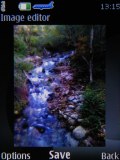 The pictures from the gallery can be viewed in fullscreen with both landscape and portrait orientation • The image editor is almost useless, as it offers very few options
The final extras of the gallery include the available Slideshow and Search options. The latter is quite convenient for finding a specific file in overfed folders but we still believe that gallery on Series 40 could be improved a lot. That goes true especially in user friendliness and we do hope that sometime in the future the file manager and the gallery of these phones will be separate applications.
A mediocre camera
When speaking about multimedia capabilities, the camera is one of the most important things to mention. Nokia 6500 classic is armed with a 2 megapixel camera with image resolution of up to 1600 x 1200 pixels. Typical of Series 40, camera settings are not the richest around but still enough for this shooter. They include white balance settings, three quality settings going form basic to high, and various effects. Sequence shots and shooting in both portrait and landscape mode are also among the available extras. The flash can be forced to on, regardless of the light conditions, and used as fill flash. Naturally, an automatic mode for the LED is also available. In terms of performance however, we weren't that impressed with its performance. It is probably a little better than the LED flash we found on the Nokia 7500 Prism but still fails to achieve decent quality pictures on most occasions.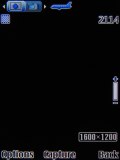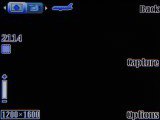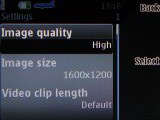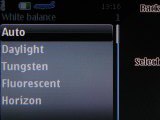 Pictures can be taken in both landscape and portrait mode • Some of the available camera settings
The camera itself is not the best we have seen either. Frankly, it is not even near average level. It has no lens cover and is only a little recessed to avoid scratches. We have already mentioned that this seems not quite enough for us but Nokia have decided so and we can't do anything about it. The lack of a dedicated camera button is also another real downer when it comes to operating the camera. It is quite uncomfortable, especially when shooting in landscape mode, to use the confirm button of the D-pad for that purpose. And a picture has been taken, the function of this button turns to delete, which we found to be most annoying. It will rarely lead to accidental deleting of a precious picture, as confirmation is still required, but the chance of such a thing to happen is not completely ruled out. Photo quality is below average; in favorable weather decent images can be produced, sharp enough, with less blown colors. The noise levels are high in areas with no detail like the sky for example. Given the absence of autofocus, you'd rather not take a picture of a closely situated objects or text, as they will surely be blurred. Text is only legible if captured from a distance. Finally we need to warn you about the camera speed. This one is among the slowest we have tried recently. It will take ages to save a picture at the highest resolution and that stretches the shot-to-shot time considerably.

Sample photos taken with Nokia 6500 classic
Another disappointment is the QCIF video capture resolution of the Nokia 6500 classic's camera. The fact that Nokia 6233 manages video recording in VGA resolution and costs about half the classic's asking price does speak for itself. The length of videos in 3GP format is only limited by the free memory available. Zooming is also available but that cannot stop us from calling the video capturing a sounding failure. This may as well be true for the overall camera experience for that matter.
Connectivity: USB on focus
Connectivity is another aspect of Nokia 6500 where you could expect more. The main focus here is the USB connectivity and it is really seamless. On the other hand the microUSB is not as widespread as the miniUSB, but this may just be how the future is shaping. Upon connection of the USB cable, it prompts you to select the connection mode. You can then alternate these modes by only a few keypresses. Moreover, Mass storage is available, allowing your phone's memory to be directly accessed from a computer. The Bluetooth version is 2.0 and it supports the A2DP profile, which allows stereo wireless connection. The rest of the connectivity options include the network support - luckily Nokia 6500 classic supports 3G for faster data transfers, as well as EDGE and GPRS where 3G support is missing. There is no infrared port on the device and no memory card slot, which can sometimes be the most convenient way of transferring information.
Web browsers
Nokia 6500 classic has an integrated WAP browser, which also manages HTML pages. No significant changes in functionality have been made and it is identical to the one used in Nokia 6300. Font size modifications are available, as usual. When set at the smallest font, the display visualizes up to 11 text lines. Direct address entering is available too. The browser faces serious competition from another brilliant application - the famous Opera Mini Java application. The latter is pre-installed and is definitely our first choice for browsing the web on Nokia 6500 classic. It is far more intuitive and fits text better than the integrated browser. The browsing experience can hardly be compared to the one on Nokia's smartphones but still is at a more than decent level. We nonetheless couldn't help wishing the screen was a little bigger on this occasion.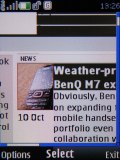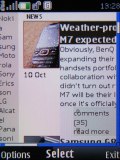 The built-in web browser is decent but stands no comparison to Nokia smartphones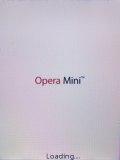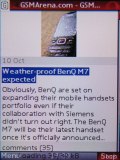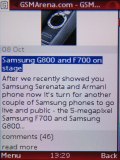 The preinstalled Opera Mini is doing a better job but still cannot fully make up for the small screen