Camera: Not the Prism's element
Talking about multimedia capabilities, the camera is one of the most important things to mention. Nokia 7500 is armed with a 2 megapixel one with image resolution of up to 1600 x 1200 pixels. Camera settings aren't the richest you can find on the market but no one expected them to be. There are white balance settings, as well as three quality settings going form basic to high. Color effects and sequence shots are also available. The flash can be forced to on, regardless of the light conditions, to use as fill flash. Naturally, an automatic mode for the LED is also available. In terms of performance however, we found the flash quite inadequate. Not that we had any great expectations but still even indoors it doesn't even come close to allowing decent quality pictures.





Camera interface and available settings clearly show that taking pictures is not what the Prism model is about
The camera itself is also inadequate. It has no lens cover and is only a little recessed to protect it from scratches. Moreover, the metal frame around the camera lens gets scratched far too easily which somewhat spoils the looks of the phone. Although not the most comfortable of all, the dedicated camera button is the beam of sunlight in the camera performance. Photo quality is average; in favorable weather pretty nice images can be produced, sharp enough, with less blown colors. The noise levels are high in areas with no detail like the sky for example. Given the absence of autofocus, you'd rather not take a picture of a closely situated objects or text, as they will surely be blurred. Text is only legible if captured from a distance.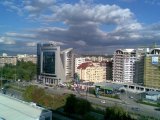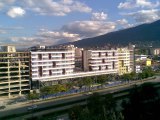 Outdoor shots: camera is not doing well with highlights, but in very good light conditions pictures are usable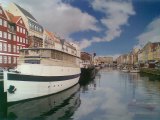 Studio shots: colors are not very precise and washed
The biggest disappointment for us was the long outdated QCIF (only 176 x 144 pixels) video resolution. For example Nokia 6233 manages video recording in VGA resolution and costs a great deal less. The length of videos in 3GP format is only limited by the free memory available. Zooming is also an option but, all in all, video capturing can be described as nothing but a flop.
Connectivity
Regarding connectivity, Nokia 7500 offers passable functionality for this price range. No bells or whistles, but still does a pretty decent job. USB connectivity is the main focus here, as it is truly seamless. Upon connection it prompts you to select the connection mode. You can then alternate these modes by only a few keypresses. Moreover, Mass storage is available, allowing your phone's memory card to be directly accessed from a computer. The Bluetooth version is 2.0 and it supports the A2DP profile, which allows stereo wireless connection. This time the Infrared port is not present but we didn't miss it at all. The network capabilities for data transfer include GPRS and EDGE, both Class 10. The lack of 3G yet again underscores that this is a fashion phone rather than a functionally rich handset.
On the Web
Nokia 7500 has an integrated WAP browser, which also manages HTML pages with WAP 2.0. No significant changes in functionality have been made and it is identical to the one used in Nokia 6300. Font size modifications are available, as usual. When set at the smallest font, the display visualizes up to 11 text lines. Direct address entering is available too. The browser faces serious competition from another brilliant application - the famous Opera Mini Java application. The latter is pre-installed and located on the memory card. Overall, the browsing experience is not as enjoyable as with Nokia's smartphones, but it is still at a more than decent level.



Browsing the web with Nokia 7500 is not as enjoyable as doing so with the Series 60 models
Time-tested time management
The organizer brings no novelties either, and, frankly, it needs none. Month, week, and day views are available. The week can start on Monday, Sunday, or Saturday. There are five types of events: appointment, call, birth date, note, and reminder. Further, each type of event has its own specific fields like starting and end time, type of alert with various advance intervals, daily, weekly, monthly, and yearly repetition.





You can hardly think of any component of the calendar that needs improvement
The task manager enables you to categorize tasks in three priority levels. Tasks can be alerted of, as well as marked off once accomplished. They are easily moved into the calendar application. Text notes are available as well; their length limit is 3000 characters. The alarm clock is repeatable; it can be set up to go off on any weekday and works even when the phone is switched off. You can customize the snooze time if you wish.
| | |
| --- | --- |
| As it turns out, it is not that eccentric inside, as it is in terms of looks. What's more, after a week or so of working with this handset, we got used to the angular design and it wasn't even that oddly looking to us anymore. | ADVERTISEMENTS |
Here are some other organizing functions available in the phone: voice recorder of 60 minute length limit, stopwatch, countdown timer, and calculator. The latter is very detailed and offers quite a lot of mathematical functions and even a loan calculator.





Nokia 7500 comes with a bunch of other organization applications: Notes, calculator, timers, voice recorder
Miscellaneous
The folder containing Java applications is located on the memory card. It features the Sensor application for Bluetooth-based communication. A very nice looking size converter and a unit converter are also to be found there.


Unit converter offers almost any type of converting you could possibly think of
The Sensor is quite an interesting application, which acts as a Bluetooth instant messenger. It makes the fashion Prism the right kind of device for the fond of blue-jacking and proxidating.


The Sensor has a nice interface and seems to be an interesting idea although probably not very useful
The size converter will convert size for everything from shoes to clothing and has a rich database including all types of measures (Japan, UK, US etc.).


The size converter offers all kinds of measurements converting
The final application is the world clock which allows checking the time in all World time zones at the expense of only a few clicks.



World clock application will help you check out time in other time zones
Let the games begin
Gaming lovers will also appreciate the preinstalled applications, as they include four games, which met wide appreciation among the GSMArena team. City Bloxx was already described in the Nokia 6120 review, while 3D Snake is a hallmark in Nokia phones. The version used here is Snake 3 and we rate it among the best ever produced.




City Bloxx game is a challenge to both mind and reflexes




Snake's third version will be appreciated by all fans of the classical Nokia game
Music Guess is about guessing the name of the song played by the phone. It is quite amusing indeed and allows you to make your own library of songs for the purposes of the game.


Music Guess will put you musical knowledge to the test
The last game is Sudoku, which is a Java interpretation of the popular Japanese game. Navigating the board is easy; the game is as good as played on paper.



If playing Sudoku is how you spent you free time than you might just consider purchasing this phone
Judging a book by its cover
Drawing to the end of our review, it is time to summarize our experience with this particularly strange phone. As it turns out, it is not that eccentric inside, as it is in terms of looks. What's more, after a week or so of working with this handset, we got used to the angular design and it wasn't even that oddly looking to us anymore. If design is high on your list and you're really after a one-of-a-kind device, then Nokia 7500 is your most logical choice. If not though, you better look elsewhere. There is a whole bunch of devices out there to offer the same functionality at a cutdown price. The most obvious alternative is the Nokia 6300. So, basically, buying the Prism or not boils down to choosing your priorities.