Lots of people, us included, are still wondering what could have been if Nokia had gone for Android rather than WP7 as their main platform. Well thanks to a leaked prototype today we have the chance to get a glimpse of that alternative universe, where Nokia likes its smartphones full of green droids.
The prototype resembles the recently announced N9 and the Nokia WP7 prototype that we saw yesterday. It is running on a stock version of Android 2.3 Gingerbread, but judging by the size of those icons its resolution might be higher than WVGA.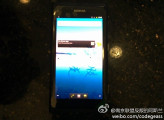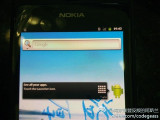 АA Nokia prototype running on Android
Now there's always the chance that the images could be fake. Yet they come from the same source that brought us Nokia's first WP7 device back in May, which turned out real yesterday we feel we can trust him on this one too. In the end, we will never know what it could have been, so this leak could be as much a closure as we are going to get.
V
Nokia was so close to the right path :(
V
hey check the 2nd image in deep it given as c0 model
b
plz provide nokia android phone.....
ADVERTISEMENTS