Smartphone Ash-pirations
Nokia Asha 306 review: Smartphone Ash-pirations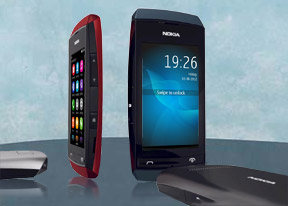 Basic video player
There is no dedicated video player within this version of Series 40. You can find you videos in the dedicated video tab of either the gallery or the music player. Or browse them in the file manager.
The Asha 306 failed to play almost every video file we threw at it, except a QVGA MP4 clip (higher-res MP4s like nHD didn't work). Surprisingly, the phone managed to play the audio of some 1080p music videos, so we could at least listen to those.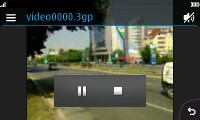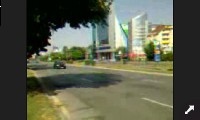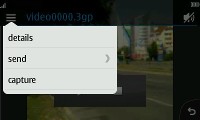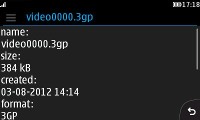 The video interface is as basic as it gets
2MP fixed-focus camera
The Nokia Asha 306 has a 2MP fixed-focus camera that produces photos at maximum resolution of 1600 x 1200. The camera interface has been updated but still offers just a few settings.
The camera's main UI has four shortcuts in each corner of the viewfinder and surprise - they're orientation aware. The virtual shutter key is always in the bottom center and the back key is always in the bottom right corner, which makes for an awkward-looking reshuffle when the screen changes orientation (it's not the fastest auto-rotate around either).
Snapping a photo takes at least 5 seconds, so you have to make each shot count as the camera will take a while before it's ready to snap another photo.
You have settings, camcorder/still camera toggle and a shortcut to the gallery. The virtual shutter is always centered at the bottom, whether in portrait or landscape.
In the Settings you can set effects, self-timer, grid and scenes. There is a deeper Advanced settings menu with resolution options, camera sounds, orientation, etc. One unusual feature is called "Funny sounds", which plays one of several funny sounds just before snapping a photo, to get your subjects to laugh.
As you would expect, the quality is nothing to write home about and there's plenty of visible noise when you view photos at 100% (and at this resolution, they fit entirely on a desktop monitor). Still, photos are good enough for Facebook, especially if you and your friends do most of social networking on a mobile device like the Asha 306.
You can record video, if you call QCIF@10 fps video
The Nokia Asha 306 can record QCIF videos at 10 fps. Let that sink in for a moment. When it comes to bottom of the barrel cameras we usually say "well, it's good enough for MMS," but that would be too generous for this camera.
Here's the QCIF@10fps sample for you to check out. It's 16 seconds long but the file is only 320KB, smaller than a lot of static images you'd find on a web page, you can imagine just how much "video" it's in there.
2G Connectivity bolstered by Wi-Fi
The Nokia Asha 306 has the basics to get you connected to most things in most places. The phone has quad-band 2G for voice and GPRS/EDGE data connectivity everywhere with a GSM network.
Then there's Wi-Fi b/g, which will get you faster data speeds and it doesn't eat into your data plan (if there even is one). Bluetooth 2.1 with EDR handles things like wireless handsfree dongles but also local file sharing.
The Asha 306 uses a microUSB port for both data connections and charging and there's the standard 3.5mm audio jack.
The 306 also has a memory card slot (and a complimentary 2GB microSD card). Coupled with a card reader it can usually give you the fastest data transfer rates.
The web browser is good, but sluggish
The Asha 306 uses Nokia's cool Xpress Browser. Its start screen has a unified URL and search bar and a few handy shortcuts to favorite websites and services.
The tabbed interface offers one-tap access to Favorites, Downloads and Apps. The Favorites tab has the History, Home and Start page shortcuts, and you can add your own bookmarks here.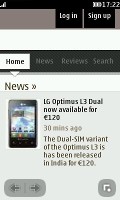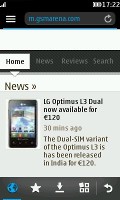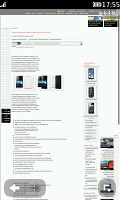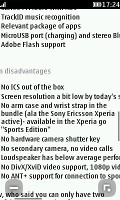 Browsing the mobile and desktop versions of GSMArena.com
The browser does the Opera Mini trick - compressing web pages on a dedicated server before sending them to the phone. Pages load quickly (even on EDGE) and don't use much data. Image quality is adjustable (Best/Good/Average or No images).
You get only two zoom levels (again, just like Opera Mini): page overview and zoomed in. A single tap will zoom in on the desired part of the page. To zoom back out to overview you need to hit a dedicated button in the bottom left corner.
Overall, the browser feels sluggish when you're interacting with the page and the kinetic scrolling animation is quite choppy. There's no Flash support, but we never expected it here.