Dual-SIM calling
The Nokia C2-00 comes with a typical S40 phonebook, which means plenty of storage for contacts (1000 on the phone plus as many as you can fit on both SIMs) and you can choose how contacts are displayed (with contact photo, by first or last name).
Unfortunately, that also means no smart dialing but you do get search in the phone book. The phonebook can be set up to automatically store new contacts in a chosen location (phone, SIM1, SIM2) or to always ask.
It's a similar situation with making a call - you can pick a default SIM card with which to call, or have the phone ask every time. A press and hold on the * key brings up that menu, so you can switch the default SIM before making a call.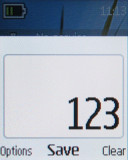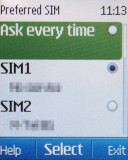 No smart dialing • choosing preferred SIM
What we missed here is the ability to assign each number for the contact to a given SIM. Say one of your contacts has a number with your home network and another with a different provider. You have to remember which SIM to use for each number. Even picking a default SIM for the default number for the contact would have been enough.
The ability to name SIM cards can be quite helpful here. Once the default SIM has been set (it's highlighted on the homescreen so you always know), the only way to dial using the other SIM is through the SIM card management menu.
Other than that, the Nokia C2-00 performs just like any other low-end Nokia S40 phone does, just in double. The second SIM card can be swapped out in seconds, so you can easily use more than two cards for calling.
In-call sound was loud and clear and the reception was solid - we didn't experience any dropped calls. The only downside of the C2-00 is that both its GSM radios are dual-band only - the 900/1800 bands are pretty wide spread, but they don't give you world-wide coverage.
Something to keep in mind is that if you're in a call on one SIM card, incoming calls to the second SIM will get a message that your phone is switched off, rather than getting a "busy" message.
One odd thing about the Nokia C2-00 was that during a call, the in-call sound can be heard coming out of the loudspeaker, even when the loudspeaker wasn't on. It was quiet and not very noticeable, but it's still a strange thing to do.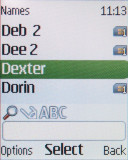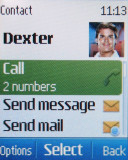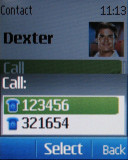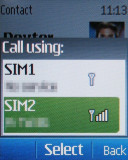 Browsing the phonebook • Dexter's details • Making a call
Another thing (though not strictly a downside) is that the Nokia C2-00 requires a SIM card in the master slot in order for the secondary card to work. Odd but not really limiting.
We also ran our traditional loudspeaker test on the Nokia C2-00. The loudspeaker posted a Good result with very consistent readings for both voice and music audio.
| | | | | |
| --- | --- | --- | --- | --- |
| Speakerphone test | Voice, dB | Pink noise/ Music, dB | Ringing phone, dB | Overal score |
| Nokia E72 | 65.7 | 60.2 | 66.3 | Below Average |
| Nokia X2-01 | 70.2 | 65.5 | 71.8 | Average |
| Nokia C2-01 | 72.8 | 66.0 | 79.7 | Good |
| Nokia C2-00 | 73.0 | 68.9 | 73.3 | Good |
| Nokia X3-02 | 75.1 | 66.6 | 75.7 | Good |
| Nokia C3 | 75.8 | 66.6 | 77.5 | Very Good |
| Nokia X2 | 80.2 | 75.7 | 84.7 | Excellent |
Software overview
The Nokia C2-00 is a S40 6th edition device. The Active standby is the trademark homescreen layout. If you've ever used a Nokia phone, you should be familiar with it by now.
It divides the screen into tiles that can be scrolled with the D-pad and edited as you see fit. They can be rearranged but the default layout is the most logical.
The general indicators are on top, featuring date, time and missed events.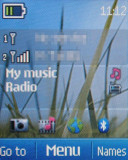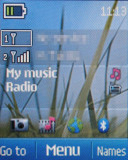 The S40 Homescreen • Preferred SIM selected
Pressing the end key while the keypad is locked displays a lockscreen showing the time and date.
The main menu can be viewed in the traditional Grid, List or Single view modes. The left button is assigned to the Go To function by default, which brings up a list of shortcuts (you can choose which ones go up there), so that accessing the most common features is easy.
Also, as a Series 40 device, the Nokia C2-00 will run Java apps so you can extend the inbuilt functionality. The Java version of Facebook's app is a good place to start.
The Nokia C2-00 handles messaging without a problem, though with no fanfare either. The supported formats are SMS, MMS, flash and audio messages and the phone handles email too. The keyboard of the C2-00 will give you reasonable typing speed. It's a good package in terms of software support too, with Nokia Messaging and Ovi Chat enabled.
The email client does pretty well to meet most user needs. It works with POP3, SMTP, and IMAP4 protocols and supports multiple email accounts. The email client supports SSL, which enables it to handle a Gmail account for example.
The gallery can be viewed in either portrait or landscape mode. In landscape mode, images load full screen. Photos can be organized into albums, viewd in a timeline (they are ordered by the date they were taken) and sorted by date, name or size. Slideshows with selectable transition effects are also an option.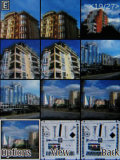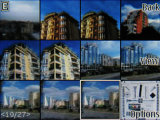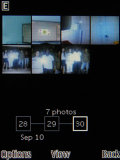 Portrait mode • Landscape mode • Timeline view
As for the regular Gallery app, it's still here – but it's hidden in the Applications menu. It's quite a capable file manager, especially for a feature phone. It can manage folders and files – both one by one and in bulk.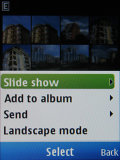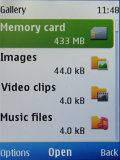 The regular Gallery app acts as the phone's file browser
The music player of the Nokia C2-00 has a solid set of features including a fair number of supported formats. The player handles MP3, WMA, WAV and eAAC+. Tracks can be filtered by artist, album and genre. Naturally, the A2DP profile is supported, allowing Bluetooth streaming of stereo sound. There's adjustable equalizer however.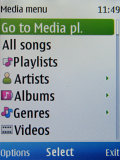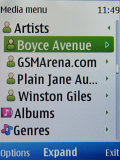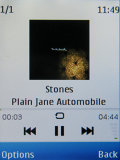 The music player • Sorting by artist • Music player interface
An RDS-enabled FM radio is available on the Nokia C2-00 as well and it can play through the powerful loudspeaker.
For the record, the Nokia C2-00 supports MP4, H.264, H.263 and 3GP. Let's face it, watching a movie on this small low-res display is not exactly our idea of fun. Playing an occasional clip someone sent you via MMS is as much use as this player might be getting.
Videos can be played in fullscreen mode, and you get pause and skip buttons.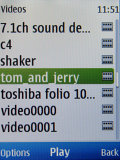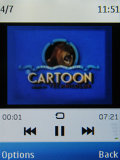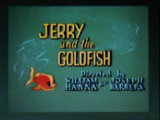 The Video player menu • Viewing a clip in portrait and in landscape
The Opera Mini 4.2 browser comes preloaded on the C2-00. It's long been part of the standard S40 package: a good data-efficient choice. The Opera Mini browser supports multiple tabs and the compression notably improves loading time and saves on data charges.
For example, GSMArena.com clocks in at about 370KB through Nokia's S40 browser and just under 70KB through Opera Mini. Keep in mind you have only EDGE to work with and a proper data plan will cost as much as the phone itself.