Touch-enabled Series 40 is rich on shortcuts
The Nokia C2-02 runs Series 40 software, which still feels very familiar even though it's touch enabled. There have been some changes since the previous batch of S40 touch phones but most of those run only skin deep like the refreshed ala-Symbian-Anna icons. In all fairness, we gotta say we found some usability improvements too, like swipe gestures on the homescreen.
Here is the C2-02 on video, to give you a clue what the touch-enabled S40 user interface looks like:.
Active standby mode (or Home screen mode, as Nokia call it here) is available as usual. It divides the screen into four sections, each of which houses a widget. The top row of the screen is reserved for general indicators (time, signal, etc.).
By default, the clock is on top, followed by Communities (Facebook, Twitter and Flickr integration) and two Shortcut bars at the bottom, each of which grants instant access to four favorite functions or apps.
There are two swipe gestures available on the homescreen - left and right swipe. Each can be set to launch an app (both native and Java) or change the phone profile. By default, a left swipe opens the message composer and a right swipe opens the Java apps and games folder.
There's no D-pad on the Nokia C2-02 but the soft keys are there. Only virtual this time – they're at the bottom of the screen, and there's a virtual Menu key between them. The soft keys are user-configurable – you can assign a shortcut of choice to each of them.
The main menu has only two views – Grid and List. The grid layout is handy for offering numpad shortcuts.
The familiar Go To shortcut is available and it's yet another way to add shortcuts to the homescreen. It's the kind of quick menu we've seen on many S40 handsets but touchscreen makes so much difference. It offers quick access to nine shortcuts.
The lockscreen on the Nokia C2-02 pretty standard – a clock and tap-to-unlock key.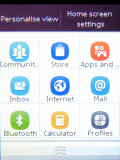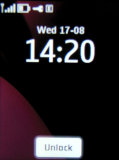 Go To is a handy quick launcher • The lockscreen
One thing missing is an accelerometer. Unlike some of its S40 non-touch siblings, the Nokia C2-02 leaves out features like tap-for-time and turn-to-mute. As for screen auto rotation, it's not badly missed we think, given the screen size. Some might still find it a nuisance though – having to manually set display orientation where it matters: in the camera viewfinder, image gallery and the video player.
The biggest omission as usual is multitasking - we gave up hope that Nokia will add that a long time ago. This leads to bottlenecks - the Communities app takes at least 10 seconds to start up and a couple of seconds to shut down.
You can't leave it running in the background you have to go trough that every time you want to do something with the app, except check the latest notification (notifications do come in the background and only the last one is displayed).
A persistent impression of the Nokia C2-02 software is that it's running on hardware that can't quite handle everything and animations are always choppy. Throwing in multitasking would probably have been the proverbial straw that broke the camel's back.
A familiar phonebook
The phonebook of the Nokia C2-02 will store about 2000 contacts depending on the fields you use, which isn't as good as unlimited storage but should do for 99% of the users out there. You can set the phonebook to display contacts from the phone memory, SIM memory or both.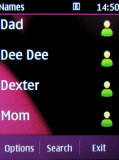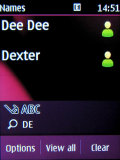 The phonebook can be searched by gradual typing
Adding a contact is simple and straightforward – the phone asks for number, first and last name and that's it. When you need to add other details you can always go back and edit the contact.
Each contact can be assigned a variety of fields but the phone numbers are limited to 5. First names are separated from last names, eliminating problems, which may occur with synchronization. You can assign ringtones to each contact.
A handy shortcut in the Options menu for each contact brings up the SMS communication you've had with that contact.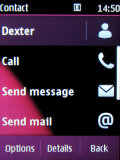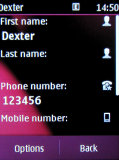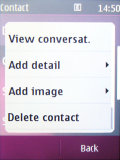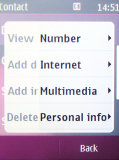 Some of the available fields when editing a contact
The phone book has search functionality and kinetic scrolling. Contacts can be copied, moved or deleted either individually or in bulk.