Organizer and apps
The organizer on the Nokia C2-03 Touch and Type is well stocked as usual and things have been touch optimized.
The Calendar starts off with the month view – when you press and hold, a bigger number will pop up just above your finger so you can aim easier. When there's an event on that date, the event description will pop up instead (it's not visible otherwise, just like in the old S40 version).
Day view is also available, but strangely, week view has gone missing. You have various kinds of events available – reminder, meeting call, birthday, anniversary and memo.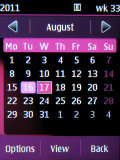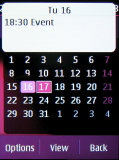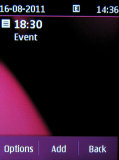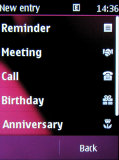 Calendar month and day view modes • setting up an event
There are Notes and To-Do apps as well.
The alarm app uses the big, touchable numbers, making it easy to set and you can make it go off only on specific days. You can customize the snooze time too, but there's only one alarm available.
The other organizing functions include a voice recorder with no time limit, a stopwatch and a countdown timer. They have been touch optimized as well, though we wish the countdown timer used the same big numbers as the Alarm clock.
The Nokia C2-03 touchscreen calculator is brand new but has lost the advanced functionality (you only get the four basic math functions). Doesn't seem like a fair trade, considering we have the numbers on the keypad already.
The C2-03 comes with the traditional Converter app as well.
The World clock can tell the time in up to four cities. It offers a long list of supported cities, but there's no search (so you have to scroll a lot for, say, Washington) and you can't just tap on the map either.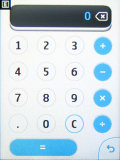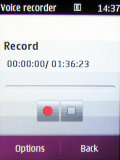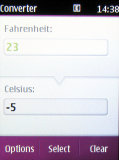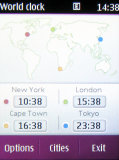 The calculator • Voice recorder • Converter • World clock
Social networking
In the Nokia C2-03 the Communities app is in charge of SNS. It handles both Facebook and Twitter accounts, including several accounts of each type (though only one Facebook and one Twitter account can be connected at a time). There's support for Flickr too.
The Facebook section supports most of the communication capabilities of the service. You can view messages and events, friend requests and event invitations. Write on people's wall and browse their profiles, post photos (either from the Gallery or you can snap a new one on the spot), post status updates, read news feeds and follow groups.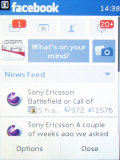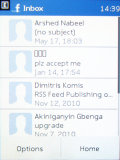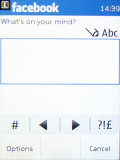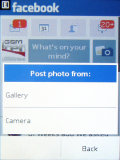 Browsing your Facebook profile through the Communities app
Twitter is an inherently simpler service but the app has plenty of features too. You can update your status, check your @mentions, send direct messages and reply to tweets too. We missed automatic upload of photos though.
S40 doesn't have multitasking, even in this touch-enabled phase, but you can still receive updates even when you exit the Communities app. Put the Communities tab on the homescreen and pick a default account and you're good to go.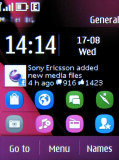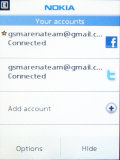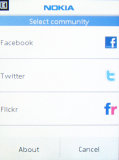 Communities on the homescreen • picking a main account • Facebook, Twitter and Flickr are supported
The default account is what you see first when you start the app (so if you only have a Facebook account, you don't have to tap the Facebook tab every time). Also, only the updates from the main account will be visible on the homescreen. You can also set the time to receive new updates – say, from 8:00 to 22:00.
The S40 Ovi Store
You can browse the apps available in the Ovi Store by categories – Applications, Games, Audio and Video content, Personalization; or by collections – currently only Go Green is available for S40 with just one app.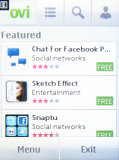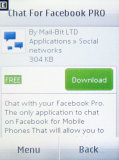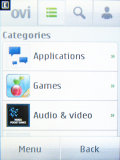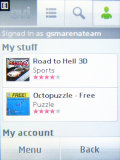 Ovi Store for S40 with a new UI for the touch version
Your account profile keeps track of all the apps you have installed under My stuff. You can now also select where games and apps should be installed and where audio and video should go. That's nice – we wish Android had that right from the start.
There are plenty of apps and games there, a lot of them free. They are still behind the big players in the app store game, but for a feature phone having an app store at all is more than we expected.
Nokia Maps for pedestrians
The Nokia C2-03 doesn't have a GPS receiver but Nokia Maps can use Cell-ID to get your approximate location. The app doesn't feature voice-guided navigation anyway and can only plan pedestrian routes. Routes are also limited in length to 10 miles.
So, even if you hook up a Bluetooth GPS receiver to the Nokia C2-03 it sill won't function as a car SatNav. There's no option for a paid upgrade either.
Maps are downloaded through your data connection, which is something else to keep in mind.
It's a nice bonus for such a low-level device, but including it probably had more to do with not using Google's solution than providing a good mapping solution.
A few games on board
The Nokia C2-03 came with six games pre-installed. They are Golf Tour, Memorize, Music Guess, Nature Park, Picture Puzzle and Solitaire.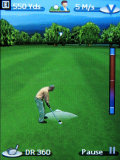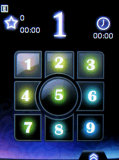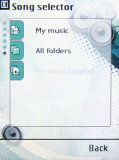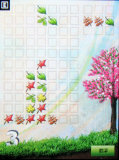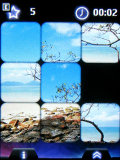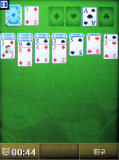 Golf Tour • Memorize • Music Guess • Nature Park • Picture Puzzle • Solitaire