Vodafone is the first carrier to offer the new Nokia C3 in the UK. The handset is available as Pay-As-You-Go and comes with 250MB web pack for one month. Nokia C3 is the phone that gathered thousands of people on its launch day in Indonesia.
Reportedly, Nokia C3 launch in Indonesia was only comparable with an iPhone launch day. For all its worth, C3 might become the best-selling Nokia handset of the year.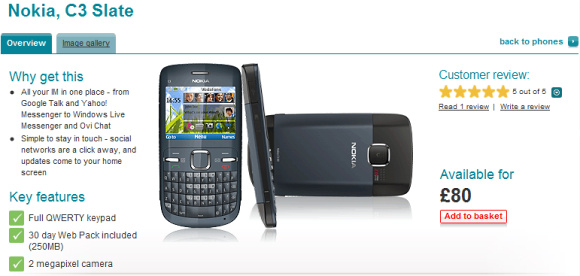 Vodafone UK is the first carrier to offer Nokia C3 in Europe. For the time being, the handset is available in Hot Pink and Slate Grey and costs 80 pounds on Pay-As-You-Go. In addition you get free 250MB for the first month.
It's a really nice price tag for a non-contract device.
Built around a 2.4" 262K-color display of QVGA resolution and a full QWERTY keyboard, the C3 is a rare breed of S40 phones that has Wi-Fi connectivity.
Source: Nokia C3 Hot Pink • Nokia C3 Slate Grey
e
hello from Athens i need this phon Nokia c3 and can i bay in euro.....thank you very much for your time....
k
it is support wat app???
ADVERTISEMENTS