The Nokia Lumia 530 is official and is even less of an upgrade than we expected. It comes in single-SIM and dual-SIM versions which will come out in August and cost €85 ($115) before taxes and subsidies.
The phone has a 4" display with 854 x 480 resolution – it's a similar display to the one on the Nokia Lumia 520 but it has 16:9 aspect ratio. The info about ClearBlack proved false and it's just a regular LCD (the 520 screen was awful in direct sunlight). Oh, and it's not an IPS display like the 520 had.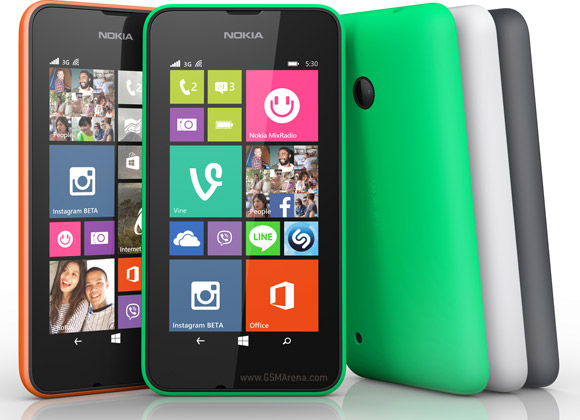 The chipset has been switched to Snapdragon 200 with a quad-core 1.2GHz Cortex-A7 processor with Adreno 302. The processor should be slightly faster than the dual 1GHz Krait of the old model, but the GPU is a downgrade over Adreno 305. The phone still has 512MB RAM, same as the Lumia 630.
The Nokia Lumia 530 will come with Windows Phone 8.1 out of the box and the good news is that it's bundled with Nokia Drive+ for world-wide navigation, unlike the single-country Drive navigation of the Lumia 520. However, the internal storage has been halved to 4GB. Good thing that you can move apps to the microSD card, you'll probably need to.
The camera also took a step back – it still has a tiny 1/4" sensor of 5MP resolution, but the camera is fixed-focus. To add insult to injury, the camera only records 854 x 480 video, a noticeable downgrade from the 720p video capture of the Lumia 520.
The Lumia 530 uses the same 1,430mAh battery as its predecessor but it has gotten thicker – it measures 119.7 x 62.3 x 11.7mm, thicker than the 9.9mm body of its predecessor. The battery offers more standby (22 days vs. 16 days) but less talk time on 2G (13.4h vs. 17.4h), 3G talk time is equal at 10h.
a
Video audio compiutar followd
a
Video audio compiutar followd
m
i totally agree wid u sonu, if u compare nokia lumia 520 which cost around 8k with lumia 620 costing 15k major difference u'll get is lack of flash in lumia 520 else somehow all other features are same or satisfactory in lumia 520, why flash is costi...