At the movies
Nokia N95 8GB features Real player for playing your video clips. The video player can be displayed in both portrait and landscape mode and can be switched to fullscreen. As you might have guessed, watching a video clip on a screen this large is a really enjoyable experience. When in full screen, the softkey functions are hidden so that they don't spoil the viewing experience and only pop up when a key is pressed. Topped with the great display quality and the generous storage this adds up to superb performance by Nokia N95 8GB in the video player department.
The handset also has a Flash player preinstalled but there is nothing much we can say about it. It does a job, no bangs and whistles.
If you get bored with the content on your Nokia N95 8GB, you can always turn the radio on for a break. The FM radio can automatically scan and save the available stations in your area. If internet connection is available the Visual radio application can download all the stations in your area and save them to the handset with their names. We would have preferred RDS support, though not having it isn't really that much of a disappointment.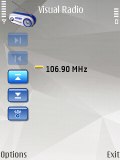 Nokia N95 8GB goes for Visual Radio instead of RDS
Gallery in three dimensions
The gallery of Nokia N95 8GB is a great application. Not that we expected otherwise, as we're dealing with an N-series Nokia. The 3D rotating view looks really nice, but we have to admit we kind of miss the Navi wheel functionality of Nokia N81. Not for the superior functionality, it's just cool to use. Otherwise, no changes are to be seen here in terms of features - pictures can be viewed in both portrait and landscape mode and zoomed in up to 8x. Overall, picture browsing and zooming is fast but, not nearly as much as the recently reviewed Sony Ericsson W910.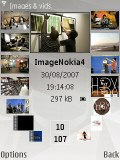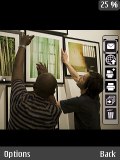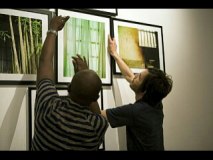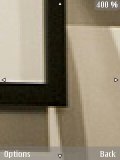 The 3D gallery of Nokia N95 8GB looks great • landscape and portrait mode viewing • zooming in on a picture
The gallery also offers a nice slide show with customizable settings, including automatic browsing and playing a pre-defined track from your phone.
The gallery has a great file-management functionality, allowing selecting and sending of multiple files at a time. Basically it covers some of the functionality of the file manager, which is present too. Finally, there is an application manager to take care of the installed applications on Nokia N95 8GB. Not much to talk about here, as it is identical to the one in any other Symbian device. Its functionality boils down to providing details about installed applications, removing them and keeping a log of movements in both directions.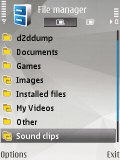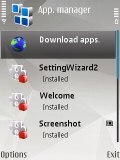 File manager and application manager are the same well known applications
The useful "Search" application is also present in Nokia N95 8GB. This time it also has a reserved line in the active stand-by menu. The application itself finds almost every item in your Nokia containing a given keyword. From messages to settings, every bit of data is checked and then all results are shown.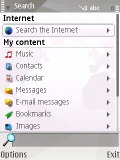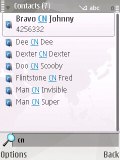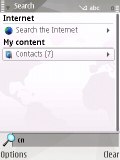 The search application sifts through every bit of data on your phone
5 megapixel wonder
There is not much to say about the camera of Nokia N95 8GB. No, nobody said common-or-garden, it's just that it's almost identical to the one in Nokia N95-1. We have talked a lot about the quality of this particular camera and if you have been keeping track, you would know that it's the best camera in a phone to date. Period. Yeah, we know that Samsung released a 10 megapixel phone in Korea a long time ago, but good luck calling your mates on it.
The most obvious and important difference between the original N95 and N95 8GB is the camera lens protector. It is removed from the 8GB model, and therefore the camera is activated by pressing and holding the shutter key. The obvious drawback of having your camera lens exposed to scratches needs no further comment. The camera set up time has improved a lot over the previous model, and now the camera can be started in a little less than three seconds. This beats the Nokia N95-1 time by about a second. With Nokia N95 8GB the shot-to-shot time can also be reduced to under three seconds, if the automatic preview is turned off. Nokia have been improving ever since the initial firmware of Nokia N95-1 was released, and now they have finally achieved a solid result. However the 5-megapixel Sony Ericsson K850 is just a tad snappier than the N95 8GB when it comes to shot-to-shot time.
| | |
| --- | --- |
| "...We have talked a lot about the quality of this particular camera and if you have been keeping track, you would know that it's the best camera in a phone to date. Period..." | ADVERTISEMENTS |
The user interface is the same as in N95-1 and offers the same extensive settings - starting from manual white balance and ISO sensitivity and including exposure compensation, sharpness and contrast settings, as well as various effects, which are labeled color tones. The innovation is the addition of a gridline that can be applied to the viewfinder. They may assist you in framing you photos, adhering to the photographic rule-of-thirds. Using it to align your subjects and place points of interest on or near the lines and their intersecting points makes your photos more professional and aesthetic. The rule-of-thirds also applies to landscape shots. For example, the sky should take either one third or two thirds of the frame, instead of placing the horizon in the center. The sequence mode and self-timer are no news. The LED flash can be set in four ways: automatic, always on, red-eye reduction and always off. An interesting change in comparison to N95-1 is the displaying of tooltips in small font (for example, a Processing Image tag displays right after pressing the shutter key).
The picture quality is great. It's the best you can find on the market, which is kind of surprising. After all Nokia N95 and Nokia N95 8GB are supposed to be all-in-one devices and it's strange that they outperform even dedicated cameraphones. The only thing to blame N95 about is the inadequate LED flash. It is only usable at a very short distance and pictures produced with it are surely no compliment to N95 8GB. However we will be looking forward to reviewing the Nokia N82 which takes care of that flaw, too. Here are some sample pictures made with the camera of our Nokia N95 8GB.
You can also have a look at the camera review of the original N95 and the shootout with the Sony Ericsson ultimate cameraphone K850. It seems that since there was no high pressure from the competitors Nokia did nothing to change the camera of N95 and used the same model in its successor. We are yet to see if the recently announced Nokia N82 will bring any improvements in this aspect. Also, be on the lookout for another shootout with some more exciting recently released 5 megapixel cameraphones.
The secondary camera can also be used for taking pictures. It is quickly accessed through the camera interface and can be used as a quick and convenient way to make self-portraits or contact images. It is also capable of recording video but it is hard to imagine that the clips it will produce will be usable in any way.