Connectivity reaches for perfection
Smartphones are usually well-heeled in terms of connectivity. Nokia N97 mini makes no exception: all contemporary means of data transfer are supported.
All kinds of network connectivity are at the user disposal - GPRS, EDGE and 3G with HSDPA. Both the 2G and 3G connections are quad-band, making the N97 mini quite the global phone. There are some carriers with rare frequencies that are not supported, but for the most part you should enjoy the speediest connectivity in the area.
Both USB and Bluetooth are version 2.0 and the latter naturally also sports A2DP. Wi-Fi with UPnP support is also at hand. There is no shortcut key for the Wi-Fi manager, but it can be easily found in the Connectivity menu and connecting to a WLAN network is two taps away.
Finally, the Nokia N97 mini has a memory card slot, which can usually give you the fastest data transfer rates and can take up to 16GB cards.
Web browser needs some tuning
The web browser of Nokia N97 mini is about the same as on the 5800 XpressMusic. It's a nice browser indeed, but hardly as touch-optimized as we would have liked.
Panning and kinetic scrolling are the only things that are done by sweep gestures here, and zoom/out zoom are controlled by tapping on the screen twice. There's a zoom bar for smoother zooming, but using it requires too many taps. There are no options for fit-to-width or fit-to-height, which makes convenient positioning of the text on screen a hard job.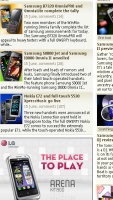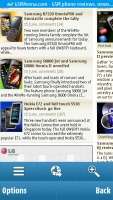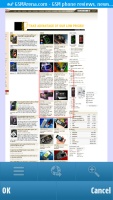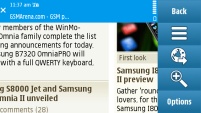 The web browser has much room for improvement
There's an overview mode (a minimap), but bringing it up requires two taps, which is exactly one more than it should have been. And while the browser has support for multiple pages opened at the same time, this only works for popups - you can't open a new tab manually and dial in a new web address in a second tab.
At least the page rendering algorithm is quite good, making all the pages look as if browsed from a desktop PC. The high resolution is also a welcome bonus here, as it allows more content to fit on the screen.
Finally, the web browser has full support for both Flash and Java, which means that you can enjoy flash videos straight from your browser without having to use the mobile versions of sites like YouTube (which was recently redesigned by the way).
So, generally speaking, the second S60 touch-browser is nicely equipped but fails to satisfy some common ergonomics shortcomings.
Organizer duly covered
The S60 organizer didn't obviously get too much effort beyond the actual touch optimization. Well, developers were right up to a point but, given the progress of most competitors, some new functionality would have been nice - like copy/paste of events in the calendar or a new calculator.
The calendar has four different view modes - monthly, weekly, daily and to-do, which allows you to check up all your To-Do entries regardless of their date. There are the same four types of events available for setting up as on S60 3rd edition - Meeting, Memo, Anniversary and To-do. Each event has unique fields of its own, and some of them allow an alarm to be activated at a preset time to act as a reminder.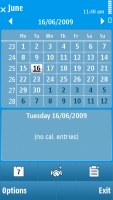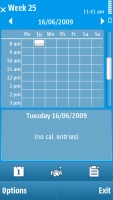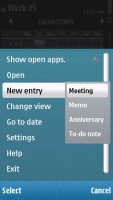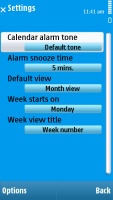 Some of the calendar views and available settings
Mobile office is also very well geared, with preinstalled applications able to open Word, Excel and PowerPoint files seamlessly. The PDF viewer was preinstalled on our unit but it's only 15-days trial version (duh!) and after that you need to buy it from the Nokia download center.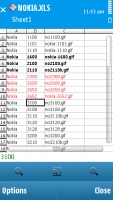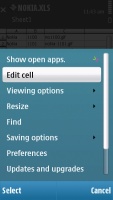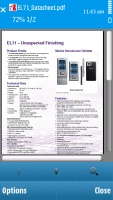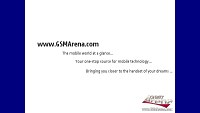 Only viewing of documents is supported out of the box
Unluckily, editing documents is not supported by the included Quickoffice version. If you would like editing enabled you will have to get the upgrade from the Nokia Download center for a fee.
The organizer package also includes a great unit converter, calculator and voice recorder, as well as the Notes application.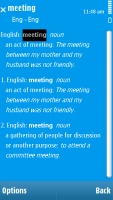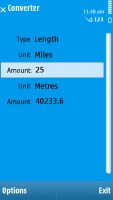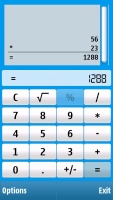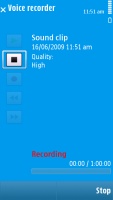 Some of the other organizer apps
The Active notes is advanced application for managing notes. It allows you to attach pictures, sound files or video clips to your memo and has nice and touch-friendly user interface. It's not so daily used app, but still it will find its fans for sure.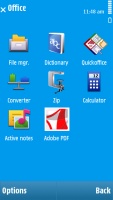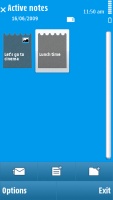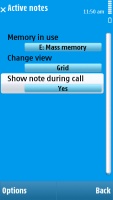 The Office menu, Active notes, settings
The alarm application allows you to set up as many alarms as you want, each with its own name, trigger day and repeat pattern. If this seems too complicated, there is a quick alarm setup where all you do is set the time and you're good to go. This is quite convenient for, say, setting up your wake-up alarm.
In addition, the number of alarms is not limited. Thanks to the built-in accelerometer you can also snooze the alarm by simply flipping your phone, much like with the Nokia 8800 Arte and 5800 XpressMusic.