Nokia just announced their financial results for Q1 of 2012 and things aren't looking that good, but CEO Stephen Elop is keeping his chin up. Nokia's smartphone division was hit the hardest, but the good news for them is that this is due to the decline in sales of Symbian phones, with the Lumia range starting to make up for it.
Nokia's combined net sales were down 29% year-over-year (YoY) to €7.354 billion and the company posted an operating loss of €1.34 billion.
The Devices & Services division saw a steeper drop in net sales - 40% YoY - mostly due to lower sales of smartphones. Net sales are less than half of what they were in Q1 of 2011 - a 51% drop in the number of units shipped. Feature phones saw a 32% decline in net sales and a 16% drop in the number of units shipped. Overall, Devices & Services posted an operating loss of €219 million, making for a negative profit margin of 5.2%.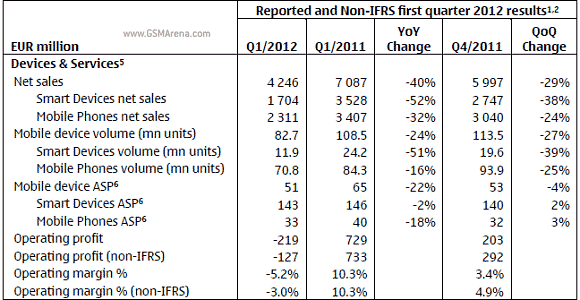 Regionally, Europe and China (traditionally strong markets for Nokia) saw big declines in popularity for the Finnish phone maker - Nokia sold 15.8 million units in Europe (down from 23.4 million in Q1 2011) and 9.2 million units in China (a steep 62% drop from 23.9 million units from last year's Q1). The Middle East and Africa along with the Asia Pacific region remain strong markets for Nokia.
Nokia's North American market shrunk from 1.2 million units in Q1 2011 to 0.6 million for Q1 of this year. North and Latin America however saw some gains in sales of smartphones and the Average Selling Price for smartphones went up slightly thanks to the Lumia smartphones.
CEO Stephen Elop remains confident in Nokia's strategy, saying that they covered the top and bottom range of the Windows Phone market with the launches of the Lumia 900 and Lumia 610 (which just started rolling out in Asia) and that they'll strengthen their S40 portfolio in the next quarter. Nokia is also working on cost-cutting measures.
In another bit of Nokia news, Colin Giles, executive vice president of sales and a member of the Nokia Leadership Team, will step down from both positions at the end of June for personal reasons.
You can hit the source link for a detailed summary and a link to a PDF with the full report, if you want more details on Nokia's performance in Q1 of 2012.
Y
Which Americans are you reffering to? Elop or Apple, Google, Motorola? Or all of the above! :D
?
Nokia was taking the lead in it's own identity until the time they allowed the Americans to mess them up and that is the result!!!
D
ICS might be the first iteration of Android that could be compatible with Nokia's corporate philosophies. Still, I think WP is a better fit, and will some day bring the crowds if the features ever come.
ADVERTISEMENTS