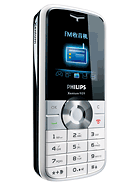 G
This cellurral is ideal for anybody. A lot of functions, stylish and not so expencive as i thought. This phone has been released in the Greek market in Junuary 2007. Very good choice!
h
nice to see, but bad function. USELESS!!!
what for if good life battery and brilliant display but no MP3 support,can't connect to PC, sound is low and many more. Think! nothing. i hope Phillips will consider to compare with another brand. TQ
r
For users: can it be connected with computer through USB? does it need any driver to be recognized by PC?
Really need a phone with good battery life & w/o camera..have been considering this Xenium with N3109.
M
Bought this phone 2 weeks ago... so far so good.
likes:
light and small
good batt life
radio
mp3 ringtones
multi-alarm clock
dislikes:
no WAP and GPRS
no loudspeaker
low memory: 512k only
good as an entry phone. serves me well.
5
Where can i buy it from?is it on the market?
I heard that this is not for the European market,any commnent on that?
W
It's a good phone. But I'm just wondering: Since it has a USB input for recharge and earphone, why do not use it to connect to the computer? It's so useful.
5
loolapalooza,this is not a dual sim phone,use the "manual" download link to read the user manual.
l
Read some preview regard this phone, it's running dual band. Wondering can it receive either one of the network at the same time or it's switching type...hhmmmmmm...anyone ??? any ideas ?? cheers
Total of 31 user reviews and opinions for Philips Xenium 9@9z.