On to poll number 2, where we gave you a chance to pick between Xiaomi's long overdue replacement to the Mi 4 and Sony's Xperia X, the pioneer in the company's new X-series. The Mi 5 left no chance to the Xperia X and took a decisive victory, collecting 61% of upvotes.
Admittedly, there was a catch here - the Xperia X Performance is still months away, while the Mi 5 you can already order.
Whatever the case though, the Mi 5 is a pretty strong contender all on its own, with a Snapdragon 820, 4 gigs of RAM and 128GB of storage in its top-specced Pro version. That same variant comes in ceramic attire too - a stunner to look at. So come to think about it, the Xperia X Performance might have had a tough time against it as well.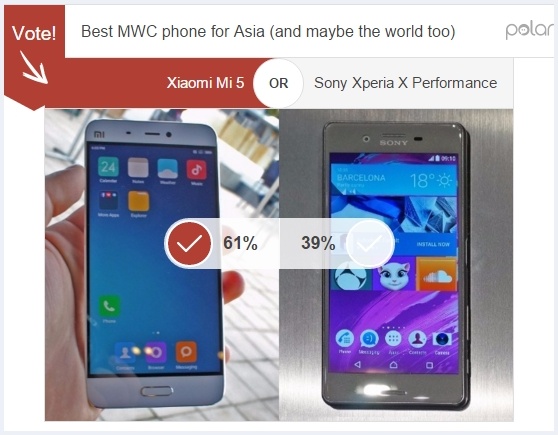 A
If you knew anythig you'd know Xiaomi isn't just phones either. It is a major supplier of electronic peripherals like external batteries, smart lights tvs and even air and water purifiers. They even sell clothes and luggage. Sony doesn't even do that...
A
Until you realize Made in China no longer applies to anything and we are in the year 2016 so stop living in 1970. Guy said HTC has an edge over cheap Chinese brands but HTC is a Chinese brand. failsauce