Promo video for Sony WH-1000XM4 ANC headphones leaked ahead of announcement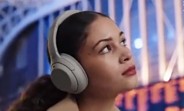 Sony is teasing an audio-centric event for next week and we're all but certain it will be the WH-1000XM4 active noise-canceling headphones that will make a debut on August 6. Thanks to a leaked video, we now get a glimpse of what's new on the upcoming model compared to the already excellent XM3s.
Let's just say it's not a lot, but then again there wasn't much to be improved on. Perhaps the single most useful addition is the wear sensor that will pause your music when you take the headphones off your ears and resume playback when you put them back on - a notable omission on the previous model. Another added feature is the ability to store location-based settings presets.
Speak-to-chat is another new entry on the feature list - it will pause your music when it detects you're speaking, and resume when you're done. It will do so 30 seconds after you're done talking (a different interval can be set within the app), so you get a chance to hear the response, though the other party will still have no way of knowing you can hear them.
The rest of it is pretty much the same. The new headphones have basically identical design to the current model (same black and 'silver' color options) and will come with the same 40mm drivers and 30-hour battery life. The QN1 noise-canceling chip has been carried over and Sony's research says the XM4s offer industry-leading ANC as of April 2020. The multi-mode Adaptive Sound Control that tweaks ANC level and sound volume depending on activity is also here.
M
@Anonymous Sony fan boy/girl, @Aaa - there are *many* reports of headband cracking on the XM3, though it is a tiny bit less that the previous two generations (nowhere close to where it should be for $350). There are absolutely no such issues - not a ...
j
Well, your points are well made. However, the thing is even the XM3s had both LDAC and aptX support. Sony ditched the Qualcomm chip, in favor of the cheaper Mediatek one. The irony is it's the same QN1 chip as before, and the Mediatek chip power...
ADVERTISEMENTS