There's no doubt that Apple's sales have been suffering lately. Not necessarily because less people are using iOS, but because iPhones have not been changed since 2014. Gartner's data for Q2 of this year shows iOS smartphone sales at 12.9% of the entire market share. By comparison, iOS sat at 14.6% market share at this time last year. Android has taken 4 more % of the market share over Q2 of last year for a new percentage at 86.2%.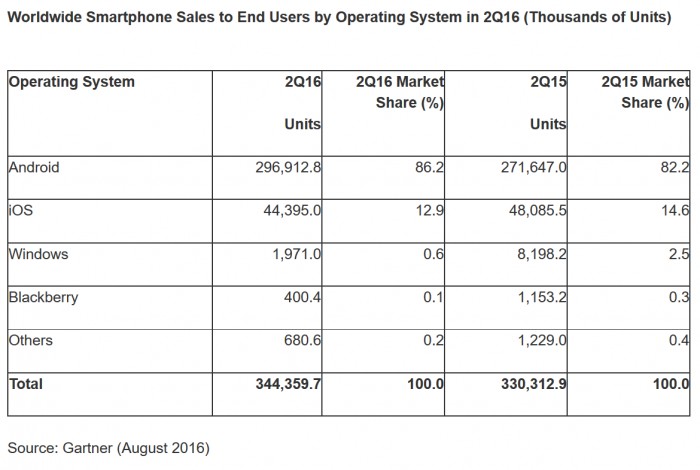 Both iOS and Android smartphones made up a total of 99.1% of all smartphone sales worldwide this quarter.
On the flip side, the top 5 manufacturers: Samsung, Apple, Huawei, Oppo, and Xiaomi all make up 54% of the entire market share. Again, these are for the number of smartphones sold in Q2. Samsung is at the lead with 22.3% of total units sold while Apple is behind at 12.9% with about 44.3 million units sold. Huawei and Oppo have seen a little improvement over previous years while Xiaomi is slipping just a little bit.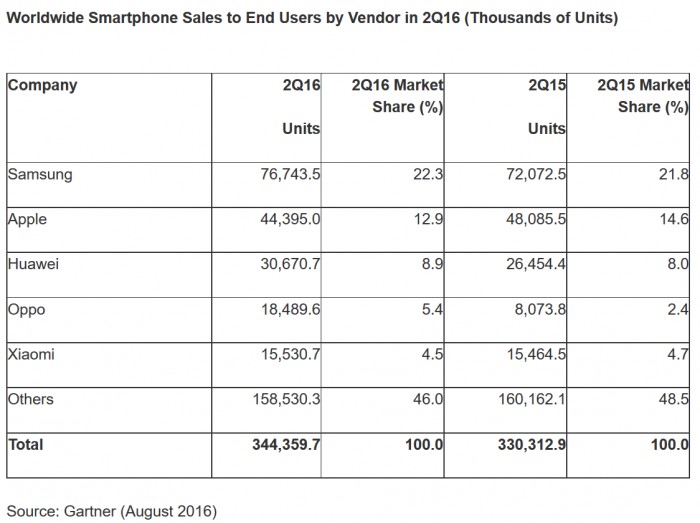 Of course, during Q2, Samsung's Galaxy S7 and S7 edge were flying off the shelves while Apple's iPhone is usually about mid-way through its life cycle. This aside from the fact that it's also Apple's refresh model the iPhone 6S and 6S Plus.
Hopefully Apple's iPhone 7 would boost more sales, but it's difficult to accurately foresee with the upcoming iPhone 7 seeming like it will be an updated iPhone 6S with no major changes. We'd have to wait until September to find out about the iPhone.
"Google is evolving the Android Platform fast, which allows Android players to remain at the cutting edge of smartphone technology,"
– Roberta Cozza, research director at Gartner.
D
Exactly you proved why Android dominate the smart phone market! Android is for people who think differently with thousands of different smart phones, and millions of way s to customize Android UI/OS. Apple iphone Model T is for people who think jus...
D
Apple can still catch up only if their prices is for the masses... As of now, only middle class can afford this product. We can't boycott Chinese product as Apple prices are very high though, practically, we are only paying ONLY the brand. Get your s...
D
Apple needs to lower down their price of their low end devices.. We only buy their brand but specs are far behind from other chinese brands....