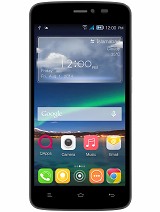 A
I am using this mobile and as compared to other sets its really amazing, especialy its camera results and crystal display. As its running android 4.4.2 which uses least of its ram I am competing with my friend in asphalt airbone 8 whose mobile is LG G3. It is really slim and as it have a samsung S5 like back looks amazing in hand.
Moral: Your comment is lame.
A
siol, 10 Jul 2015one of the worst fone. specs doesnt means it performs good. most pathetic software zero optimi... moreI am using this it is a gr8 phone you dont know about this phone please donot bad comments if didnt know anything
Total of 3 user reviews and opinions for QMobile Noir X400.