Back in February Qualcomm unveiled its Snapdragon 700 series with a focus on AI, as is the trend. According to the latest information, the first two chips in the lineup will be the Snapdragon 710 and Snapdragon 730 and their full specs just leaked online.
Sitting between the 600 series and the flagship 800 series, the 7xx will feature octa-core CPU where six of the cores are for efficiency and two of them for performance. Interestingly enough, the Snapdragon 730 will be built on the 8nm LPP process, making it the smallest one ever, manufactured by Samsung.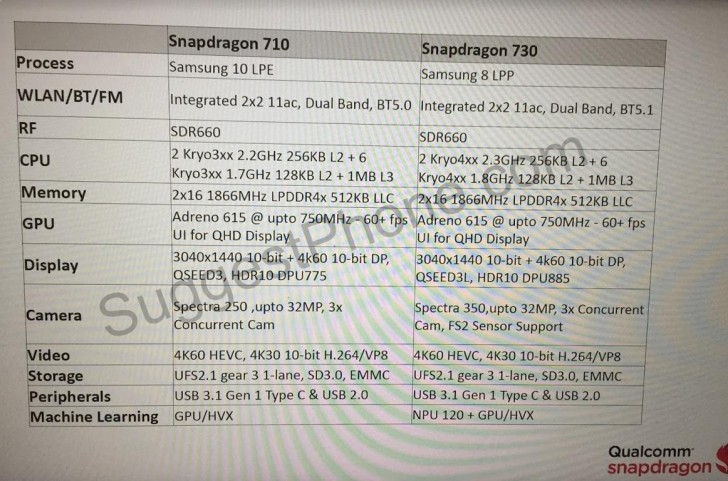 While the 10 nm LPE (Low-Power Early) process offers 27% higher performance and 40% lower consumption, compared with the 14 nm one, the LPP gives 10% performance improvement and 15% power reduction on top of these numbers.
The RF transmitter, listed as SDR660, is the same as the one in the Snapdragon 630 and Snapdragon 660, meaning upcoming phones will have the same band support as the phones powered by the latest 600-series chips.
The maximum supported resolution will be 3040 x 1440 or WQHD+, which is the 19:9 ratio that many phones with notches implement nowadays.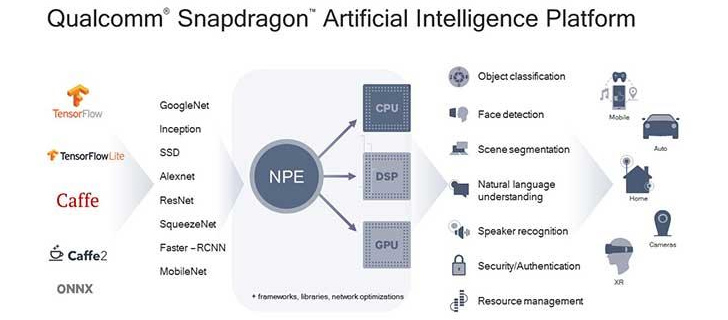 Since Qualcomm said the 700 series would be AI-oriented, there will be a specific machine learning neural processing unit called NPU 120, coupled with GPU/HVX on the Snapdragon 730, while the 710 will not have the dedicated NPU.
Phones with Snapdragon 710 are expected to arrive in the first half of 2019, and Xiaomi is rumored to be one of the first companies to release such a device. Since Samsung acquired qualification for the 8 nm LPP process in November, phones with Snapdragon 730 should be available at the end of the next year.
?
Or better still, just get a HELIO G90T processor.. it has newer cores and better graphics
K
The answer is no, it's all about how the processor is built, sd 636 is built on custom kryo cores which is much powerful that the cortex that is used is snapdragon 625, which is way more powerful that the sd 450. In short the kryo cores of sd 636 clo...
C
I've heard it has only got 384 KB L2 cache and 1MB L3 cache memory. If it is real then how it's gonna be faster with that low amount of cache memory..........................
ADVERTISEMENTS