Display
The Realme 8 Pro borrows its display from the Realme 7 Pro - it's a 6.4" Super AMOLED panel with an extended 1080p resolution (411ppi), 60Hz refresh rate, and a small punch-hole for the selfie camera. There is a Gorilla Glass of unknown revision shielding the screen.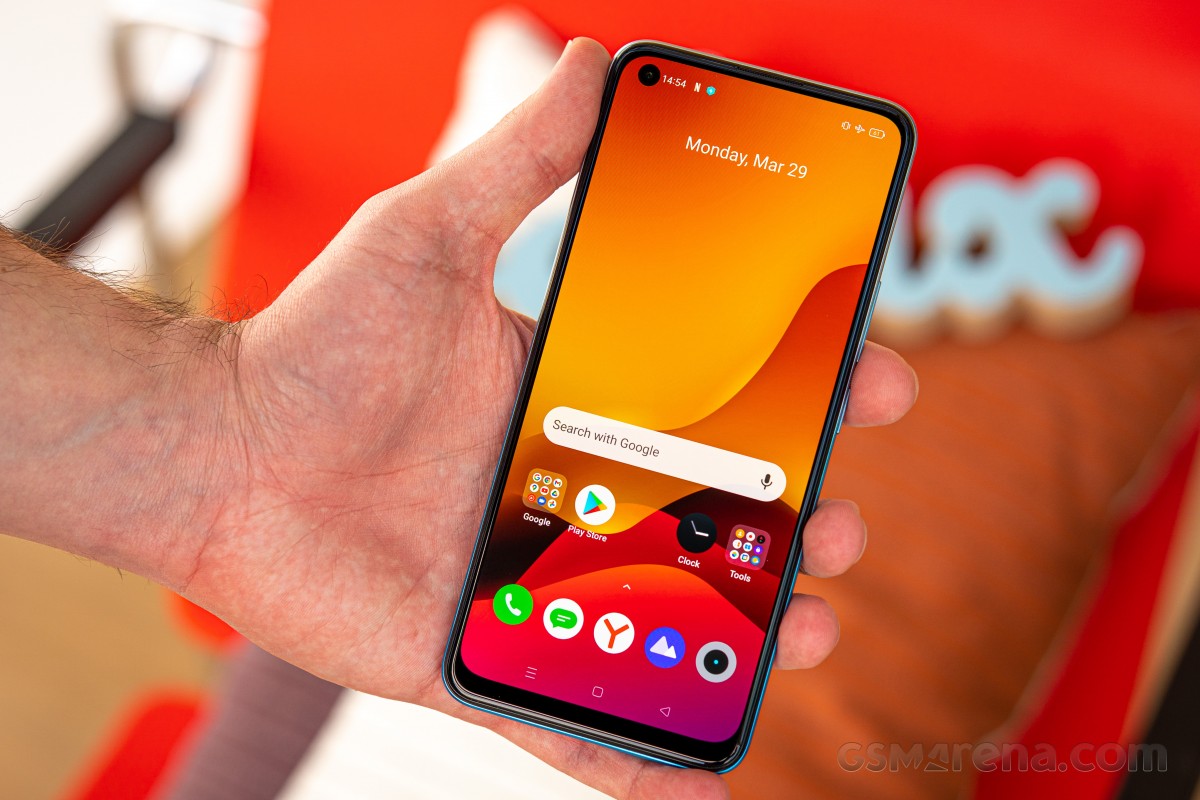 The screen supports an Always-on display, DCI-P3 color gamut, and it can show HDR10 content in some apps. The Realme 8 Pro supports Widevine L1 DRM, and while it can stream in Full HD, according to Netflix and Prime Video - HDR10 is not available. Then there is YouTube, where you can stream HDR10 videos, so we guess it is an app-specific thing.
We thought Realme would offer a high-refresh-rate screen for the 8 Pro, alas that's not the case, and we guess that's postponed for future series.
We did our brightness measurements, and the 8 Pro AMOLED shows some good numbers for this type of panel. Using the brightness scrubber, we got a maximum brightness of 454 nits. When the screen relies on Adaptive Brightness, it can be as bright as 627 nits - great for this class.
Finally, the minimum brightness we were able to achieve with white was 2.0 nits.
Display test
100% brightness
Black,cd/m2
White,cd/m2
Contrast ratio
Realme 8 Pro
0
454
∞
Realme 8 Pro (Max Auto)
0
627
∞
Realme 7 Pro
0
459
∞
Realme 7 Pro (Max Auto)
0
585
∞
Poco X3 Pro
0.327
458
1401:1
Poco X3 Pro (Max Auto)
0.4
534
1335:1
Poco F3
0
511
∞
Poco F3 (Max Auto)
0
716
∞
Realme 7 5G
0.376
484
1287:1
Realme 7 5G (Max Auto)
0.667
571
856:1
Realme 6 Pro
0.318
421
1324:1
Xiaomi Redmi Note 10 Pro
0
457
∞
Xiaomi Redmi Note 10 Pro (Max Auto)
0
725
∞
Xiaomi Redmi Note 10
0
475
∞
Xiaomi Redmi Note 10 (Max Auto)
0
682
∞
Xiaomi Redmi Note 9 Pro
0.355
456
1285:1
Xiaomi Redmi Note 9 Pro (Max Auto)
0.487
616
1265:1
Samsung Galaxy A52
0
386
∞
Samsung Galaxy A52 (Max Auto)
0
794
∞
Samsung Galaxy A32
0
393
∞
Samsung Galaxy A32 (Max Auto)
0
814
∞
OnePlus Nord
0
323
∞
OnePlus Nord (Max Auto)
0
756
∞
The Realme 8 Pro display supports DCI-P3 and sRGB color spaces. You get to choose between Brilliant (oversaturated), Vivid (default, DCI-P3), or Gentle (sRGB) color modes. In each of these, you will get a color temperature slider going from cool to warm.
The default Vivid mode showed very good accuracy to our DCI-P3 targets, with the only exception being the slightly bluish white and gray hues. The Gentle Mode has a perfect accuracy to sRGB targets. The Brilliant Mode is pretty much the same as the Vivid, with more saturated red and green hues.
Battery life
The Realme 8 Pro has a lot in common with the Realme 7 Pro - the 4,500 mAh battery, the same 6.4" AMOLED screen and the same Snapdragon 720G chipset. And that's why we expected Realme 8 Pro to match the Realme 7 Pro battery life scores and endurance.
And it did! The Realme 8 Pro scored an endurance rating of 116 hours (+3h over the 7 Pro). It clocked 35 hours on 3G calls, neatly 17 hours on web browsing, and north of 21 hours on video playback.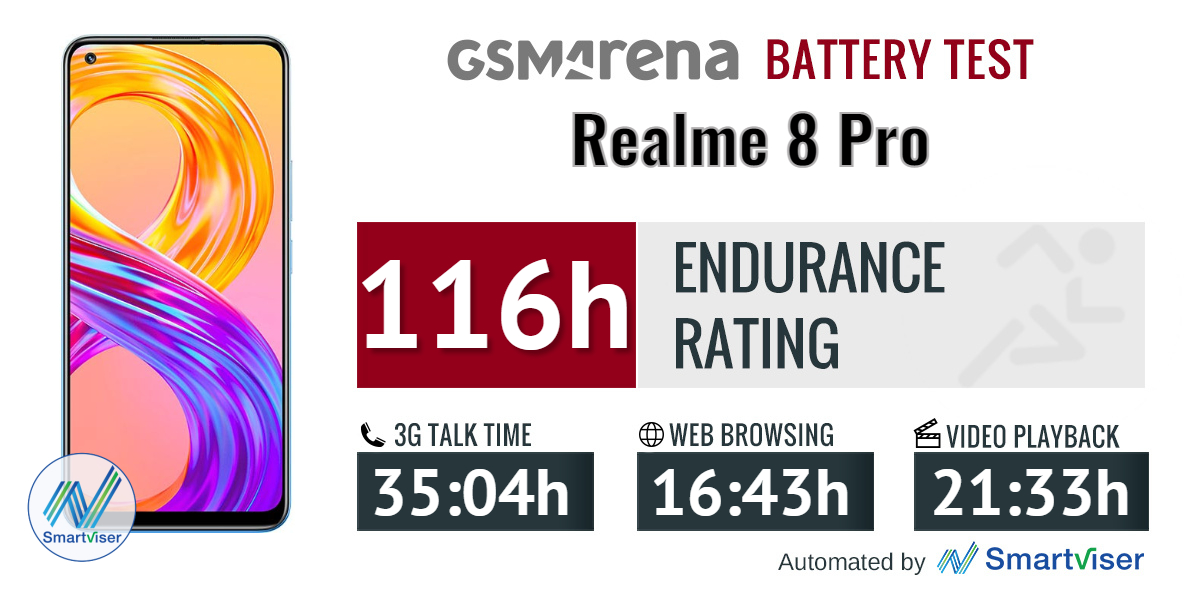 Our battery tests were automated thanks to SmartViser, using its viSerDevice app. The endurance rating denotes how long the battery charge will last you if you use the device for an hour of telephony, web browsing, and video playback daily. More details can be found here.
All test results shown are achieved under the highest screen refresh rate mode. You can adjust the endurance rating formula manually so it matches better your own usage in our all-time battery test results chart where you can also find all phones we've tested.
Charging speed
Realme 8 Pro supports 50W SuperDart Charge, but you get an even more powerful 65W power adapter as part of the phone's retail bundle. The Realme 7 Pro had support for 65W charger, so we are not sure why the downgrade was needed in the first place. Realme is advertising the 50W SuperDart charge as capable of replenishing 50% of a flat battery in 17 minutes, while a full charge should require 47 minutes.
There is no wireless charging or reverse charging support.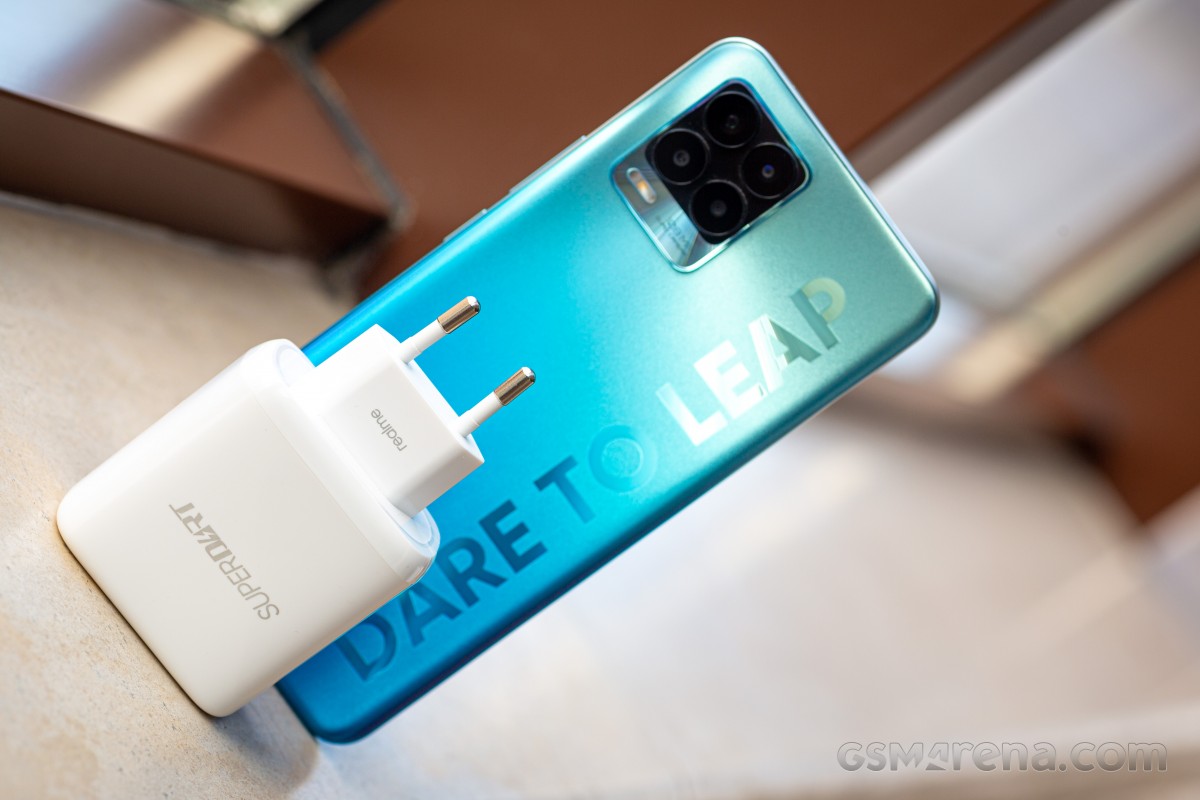 In our testing, the 65W power adapter indeed recharged 50% in 17 minutes, while half an hour would take you up to 88%.
30min charging test (from 0%)
Oppo Find X3 Pro
100%
OnePlus 9 Pro
99%
Realme 7 Pro
94%
Realme 8 Pro
88%
Realme 6 Pro
68%
Xiaomi Redmi Note 9 Pro
63%
Realme 7 5G
57%
Samsung Galaxy A52 (25W)
52%
Xiaomi Redmi Note 10 Pro
50%
Xiaomi Redmi Note 9S
37%
Samsung Galaxy A52
34%
Realme 6i
33%
You reach the 100% mark in just 38 minutes. But, you get to Charged after additional 11 minutes of charging, making for a total of 49 minutes - very close to what Realme has promised.
It turns out this is not the first time a BBK phone does this (yes, the 65W-capable OnePlus 9, 9 Pro and Oppo Find X3 behave the same way), and we may need to make some changes to how we time these charging times in light of this discovery.
Time to full charge (from 0%)
Oppo Find X3 Pro
0:28h
OnePlus 9 Pro
0:32h
Realme 7 Pro
0:37h
Realme 8 Pro
0:38h
Realme 6 Pro
0:57h
Realme 7 5G
1:06h
Xiaomi Redmi Note 9 Pro
1:11h
Xiaomi Redmi Note 10 Pro
1:21h
Samsung Galaxy A52 (25W)
1:30h
Xiaomi Redmi Note 9S
1:45h
Samsung Galaxy A52
2:03h
Speaker
The Realme 8 Pro has one bottom-firing speaker, unlike the Realme 7 Pro, which had a stereo setup. It scored an average score in our loudness test and is on par with the Realme 6 and 6 Pro.
The audio quality is average, too. It has some bass and well-presented mid-tones, but you can hear it lacking in the high notes. Its output isn't as shallow as the Realme 7 Pro's, though, so it's kind of a silver lining.
Use the Playback controls to listen to the phone sample recordings (best use headphones). We measure the average loudness of the speakers in LUFS. A lower absolute value means a louder sound. A look at the frequency response chart will tell you how far off the ideal "0db" flat line is the reproduction of the bass, treble, and mid frequencies. You can add more phones to compare how they differ. The scores and ratings are not comparable with our older loudspeaker test. Learn more about how we test here.