Late last month, Best Buy was selling the Motorola Moto Z Droid for just $4.99 a month. The deal also included a couple of freebies in the form of JBL SoundBoost MotoMod and the Incipio OffGrid 2,220mAh battery pack MotoMod.
If for some reason you missed that deal, you'll be glad to know that the at-least the pricing for the Verizon-exclusive phone has dropped to the same figure again.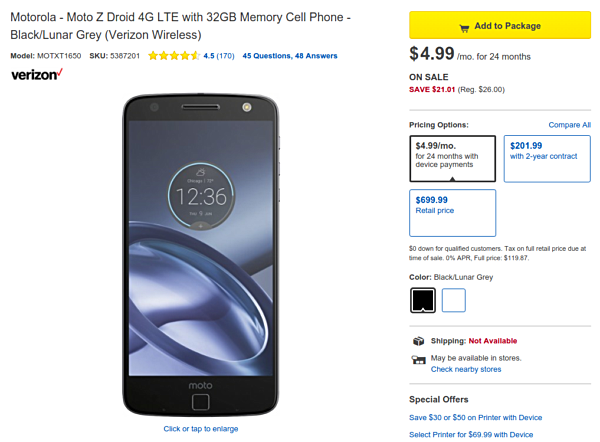 The discount is available on both black and white color variants. While the former can only be purchased in-store, the latter can only be ordered online.
A quick look at the handset's listing on Verizon's website reveals that the carrier is officially selling it for $10 a month, so at under $5, Best Buy is certainly offering a deal worth considering. For more information, head to the Source link below.
N
you can pay it off for 120$ but your new 2year verizon contract stays. get the point.
T
Yes, and you can pay it off at any time as well if you'd like. The contract is with Verizon although the phone is purchased through Best Buy.
?
You don't have to be on Verizon for it to work. Sign up for Verizon and get the payment plan then pay it off right away for a hundred twenty bucks. Nice and simple and go back on to your old carrier