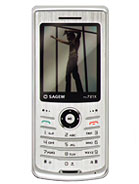 P
Just recived this phone today and it amazing screen Quality is brill sound Quality is amazing with the help of two speakers, menu is so simple and easy to navigate with stylish icon. the camera is a 3.2 mega pixel it has got anit-shake quality is good for phone camera, i think best part of the phone is it has got Autonomy which tells u how much battery life left to ur nxt charge tell u how much talk time left and standby

so if ur considering of getting this phone go for it you wont be disappointed
M
200h stand-by battery life? No thanks!
?
The mobile support 3D sound which many endusers don't know.This is the first mobile addapt the metal brush affect on the keypad,and the advistment is "So ice",I think it is also "so nice"
j
I love this phone. It's really the best phone I have ever had.. He got functionalities as MP3/Radio/Camera with a lot of impressive features (Timer, Effects,..).
T
If only it had 3G but this fone is hot anyhow.
r
I hope these magic series should be sold in the market of china a.s.a.p simutaneoulsy as European market,the other brand alcatel wasted a great deal of chances and time, it's the right moment for his French partner to show the real power,to satisfy our people's mag need.but all in all,never put the products to the market like a snail as usual,and We're not only accept Nokia,but many more products with innovatively design.
A
for video call SAGEM made for certain model,i think maybe cos the engineer don like to use video call except(he or she)like about hp features.i think...
M
I am very impressed as with all the models SAGEM has this year but why no 3G video calling?
A
i,am SHOCK!very impress...i know SAGEM can do it,go SAGEM go...
m
well this is something unexpected, totally different from all sagem designs. though features are good enough :)
Total of 114 user reviews and opinions for Sagem my721x.
ADVERTISEMENTS