Yesterday Corning and Samsung announced that they would be teaming up to provide a product that plays to each of the companies strengths.
Samsung, who alongside their mobile devices are famed for a pretty reputable display manufacturing arm, have joined forces with Corning, best known for their super scratch an shatter resistant Gorilla Glass, which features on a vast number of smartphones and tablets currently on the market.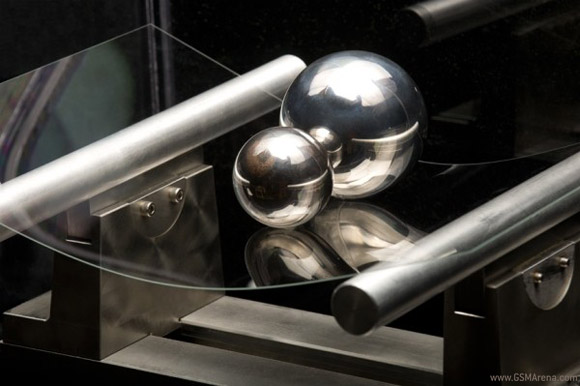 Corning stress testing some of their most impressive works

The two names are planning to develop and manufacture a new specialty glass substrate to accommodate the fast expanding OLED market, under the product name of 'Lotus Glass'.
Samsung already have some fine examples of OLED technology under their belt, including the likes of the Samsung Galaxy S II's Super AMOLED Plus and of course their range of OLED televisions too.
The combined forces of these two names will produce an OLED backpane glass substrate for use by Samsung and, as the press release states "the broader Korean market", which could involve the purchase of such a product to companies like LG.
The reasoning behind the joint venture is thanks in-part to Samsung's previous already prevalent presence in the display market.
OLED technology-based revenue was expected to exceed $4 billion in 2011 and by 2018 is expected to reach more than $20 billion (or approximately 16% of the total display industry).
So expect the pair to be riding high within the mobile display market over the next few years as this match, looks to be made in heaven.
Keep on reading for the official press release:
Corning and Samsung Mobile Display Form New OLED Glass Venture New business expands Corning's long-standing collaboration with Samsung
CORNING, N.Y., February 02, 2012 – Corning Incorporated (NYSE: GLW) and Samsung Mobile Display Co., Ltd. have signed an agreement to establish a new equity venture for the manufacture of specialty glass substrates for the rapidly expanding organic light emitting diode (OLED) device market. The new business will be located in Korea.
Combining Corning's Lotus™ Glass substrate technology and Samsung Mobile Display's OLED display expertise, this new entity will be well-positioned to provide outstanding product solutions for current and future OLED technologies, from handheld and IT devices to large TVs and beyond.
The newly formed entity will supply OLED backplane glass substrates for Samsung Mobile Display, as well as for the broader Korean market.
According to a recent NPD DisplaySearch report, OLED technology advanced rapidly in 2011, setting a trend that is forecasted to continue through this decade. They estimate that OLED display revenues will exceed $4 billion in 2011 (approximately 4% of flat panel display revenues), and will reach more than $20 billion (approximately 16% of the total display industry) by 2018.
Samsung is playing a leading role in this emerging market through its Galaxy mobile device products and Super OLED TV technology introduced in January at the International Consumer Electronics Show. Corning's ongoing advanced glass technology development includes a strong focus on high-performance displays. Most recently, this focus has been demonstrated through Corning's new Lotus™ Glass substrates, which deliver the higher processing temperatures and improved dimensional stability needed to produce the new high performance displays.
"Samsung Mobile Display has led the global display industry by constantly seeking innovations and challenging current technologies' limits. We are confident that combining our business powers with Corning's technology leadership will deliver greater value to our clients," said Soo In Cho, Samsung Mobile Display's president and chief executive officer.
"Corning and Samsung have a long and successful partnership in the display industry, dating back nearly 40 years to the early days of television," said Wendell P. Weeks, Corning's chairman, chief executive officer, and president. "The strength of our business relationship is built on Corning's ability to develop and make high-technology glass with the key attributes that enable Samsung's next-generation displays. Together, we have led the evolution of displays – from the high-growth years of CRT, to our current successful business supplying world-leading substrates for today's high-definition LCD TVs, and now to the launch of this important new venture to advance OLED technology," Weeks stated.
D
Hm, what glass can survive diamond's or sapphire's scratch? It is just the chemistry, some jewelry will always be stronger than the glass:))) But the efforts like Gorilla are good:) saves from keys and stuff like metal probably (I hope so - don't hav...
?
Samsung would put this glass on some phones, then quietly change it on it's variants, just as how they shipped less powerful versions of their SGS2 without most customers knowing. If you get a Samsung, make sure you know exactly what you're gett...
?
i hate samsung first place a Plastic Body second a crappy glass... So im not trust this brand till now..,:-(
ADVERTISEMENTS