The Samsung S8500 Wave is Samsung's headliner and the worst kept secret at this year's MWC. But there's nothing to keep under wraps now: the ocean comes with this here Wave, but several others washed ashore too.
Samsung were fashionably late for their own Unpacked event in Barcelona but they obviously had no intention to wait for the WMC to grind into motion. Not with two big announcement to make. The Samsung S8500 Wave was all over the place anyway, but they seem keen to make the new bada OS the toast of town.
The S8500 Wave is Samsung's first handset running the bada OS, an expandable smart platform to tap in on the company's own app store (Samsung Apps). It's a smartphone built around the familiar and friendly TouchWiz so users feel at home. Samsung claim they're keen to make smartphones available to all.
So, on top of the widely-customizable UI, Bada is treating users to something called Social Hub - to integrate all kinds of social networking (Twitter and Facebook) and push email powers. The brand new Quick Panel sounds intriguing too - it's a "way of prioritizing and aggregating applications into one screen for instant access".
By now you've probably heard time and again about the cool new Super AMOLED touch screens that Samsung have been cooking up. By the looks of it, the screen on the Samsung S8500 Wave sure is worth the fuss. The 3.3" WVGA screen is said to reflect less light and certainly offers impressive contrast and brightness.
Support for DivX/XviD, virtual 5.1 surround sound and better yet - decoding of 720p video - are set to squeeze one of the best multimedia experiences out of the Wave. There's plenty of room to store HD videos too - the Wave has 2GB or 8GB of built-in memory, and supports microSD cards up to 32GB.
As for the image and video capturing capabilities of the Samsung S8500 Wave, well… the camera may be just 5MP but it records 720p video and we have samples to prove it. Feast your eyes on these videos:
And one more:
And before we're done looking at the camera, here are some sample photos:





Samsung S8500 Wave camera samples
Bluetooth 3.0 is barely out the gate, but the Samsung S8500 Wave has support for it plus the much speedier version of Wi-Fi - 802.11n. And the 1GHz CPU is among the fastest on the market - all the best for Samsung's new OS.
The Wave also packs a GPS receiver and a SatNav application with 3D maps. The Samsung S8500 Wave has quad-band GSM connectivity and dual-band HSDPA/HSUPA.
So, quite a spec sheet this Samsung headliner. But it's time we looked at the other MWC debuts that will be showcased these coming days.
Say hello to another AMOLED player - the Android-running Samsung I8520 and its 3.7" WVGA Super AMOLED touch screen. This one packs an 8MP camera that can shoot 720p video. It'd be impressive enough even if the specs stopped there, but geeks are in luck - the Samsung I8520 packs a built-in projector too.
It measures 123 x 59.8 14.9 with a 1800 mAh battery. Not bad for a pocket movie theater, huh? As usual for multimedia powerhouses like the Samsung I8520, there's DivX/XviD support as well as the ability to play 720p videos including ones using the VC-1 codec, a proprietary version of H.264. There are stereo speakers too.
The Samsung I8520 boasts a full connectivity set - quad-band GSM/EDGE, tri-band 3G with 7.2 Mbps HSDPA and 5.76 Mbps HSUPA, plus Wi-Fi b/g/n with DLNA, a GPS receiver with A-GPS support and Bluetooth (just 2.1 this time).
The other MWC entrants by Samsung include a couple of Monte handsets, which seem to nod at traditional users. Quite surprisingly, the Monte duo will cater to those who don't care about touchscreen. The Samsung C3200 Monte Bar is a candybar and the Samsung E2550 Monte Slider is a slider, each featuring a 2" QVGA screen. Both are entry-level offers with basic imaging, microSD memory expansion and Bluetooth 2.1. The C3200 Monte candybar gets the upper hand with a 3.5 mm audio jack and quad-band EDGE, while the E2550 slider is a simple dual-band phone.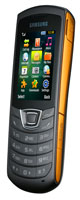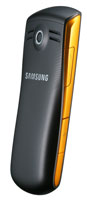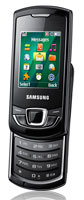 Samsung C3200 Monte Bar * Samsung E2550 Monte Slider
The Samsung B3410W is WLAN-enabled version of the B3410 Corby Plus. No, Corby is not officially part of this guy's model name but pretty much everyone should know what to expect. The 2.6" QVGA screen, quad-band GSM/EDGE support and stereo Bluetooth go without saying. The B3410W hasn't confirmed a 3.5 mm jack yet. Otherwise, it's a QWERTY-meet-WLAN to round off a neat basic package.
A
I need information www.aftabbazar.com
E
As crappy as before as it seems.
s
ooh that I8510?Android phone looks good. I want to upgrade from Omnia but want something special as Omnia isn't shabby with its specs.
ADVERTISEMENTS