Nice 5MP camera
The Samsung Focus 2 is equipped with a 5 MP camera with autofocus, geo-tagging, image stabilization and a single LED flash. It can capture images of up to 2592 x 1944 pixels resolution.
The camera UI is pretty simple - you have your viewfinder and some controls on the right. From top to bottom they are the still/video camera toggle, virtual zoom buttons and an extended settings menu. On the left you have an arrow that takes you to the images taken with the camera, alternatively you can do a swipe gesture too.
The camera app on Windows Phone offers very extensive settings, ranging from scenes and effects to white balance, contrast, saturation, sharpness, ISO and more. You have a dedicated Macro focus mode but no face detection. The flash can be set to auto, forced or off.
The camera key will wake the phone with a single press - that is unlock it and start the camera. There's an option that prevents the shutter key from starting the camera if the proximity sensor is triggered (to prevent accidental launches when the phone is in your pocket). This option is off by default.
The camera on the Samsung Focus 2 produces good results with faithful colors and nice detail. If you prefer punchier colors, you'll have to fine tune the camera using the available settings.
In low light the noise levels quickly go up and the images become much softer. Here is a sample.

HD video recording
720p video recording is the best Windows Phone can do for the time being so the Focus 2 follows suit. It's not a bad quality cap by any means and for many people just the economy of on-board storage will be persuasive enough to opt for HD over FullHD.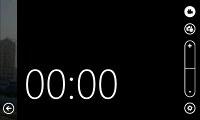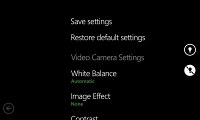 Camcorder
The video camera interface is identical to the still camera one and has plenty of features too. You can use scenes, calibrate contrast, saturation and sharpness, change the white balance or exposure compensation and also add image effects. You can use the LED as a video light too.
Take a look at a Samsung Focus 2 720p video sample. The frame rate is high and smooth and there's plenty of fine detail. Overall, the Focus 2 produces some great videos.
We've prepared an untouched 720p video sample from the Samsung Focus 2 for direct download.
Connectivity
The Samsung Focus 2 has quad-band GSM/GPRS/EDGE support and dual-band 3G with HSPA (21Mbps downlink and 5.76Mbps uplink).
LTE connectivity is at your service, should you be in an area where you it is available. The speeds are unsurprisingly amazing, though we wonder if the device actually needs them.
The local connectivity is covered by Wi-Fi b/g/n with DLNA and stereo Bluetooth 2.1. Bluetooth is currently limited as to what it can do - there's no file transfer support, for one.
Syncing with a computer is done with the Zune computer application. It's the only way to transfer files directly between your computer and your Windows Phone - there's no Mass storage mode.
You can sync files with Zune over the USB cable and Wi-Fi. There's a Mac version of it available too - Windows Phone 7 Connector.
Additional SD storage isn't available on Windows Phone so the Focus 2 doesn't offer such an option.
Another syncing option is the cloud. SkyDrive is a free Microsoft service that gives you 25GB of cloud storage. You can even have your photos automatically uploaded as soon as you snap them.
Mango brings Wi-Fi hotspot functionality too. All you need is an active SIM card with a data connection and you're all set.