Foldable phones will enable growth in the "saturated smartphone market", according to Lee Jong-min, the Executive Director of the planning team at Samsung's mobile division. "Foldable phones are not an expansion of existing smartphones, but a completely new field," said Lee at Samsung's 2020 Investor Forum.
He adds that foldable phones will become thinner and lighter in the future. That's not the case with the Galaxy Z Fold2, which went up to 282g from the 263g of the original. The redesigned hinge offers several advantages (keeps dust out, can be locked at several angles), but it did make the closed phone thicker – from 15.5 mm to 16.8 mm.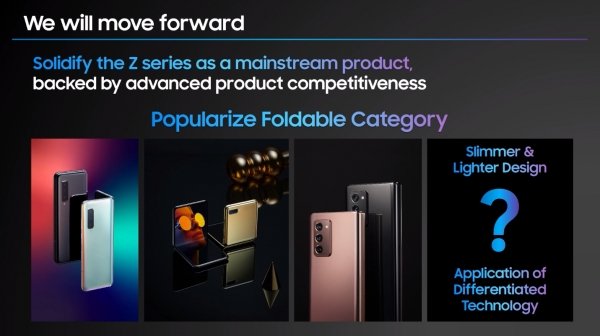 Most owners bought the Fold2 for its large tablet-like screen, which increased their productivity. The novelty of the design was also a factor. Galaxy Z Flip buyers are a different group, they prioritize portability and design (and, again, novelty was a major draw).
Either way, collaboration with Google and Microsoft helped Samsung polish the foldable phone experience while Thom Browne helped with designing a unique exterior.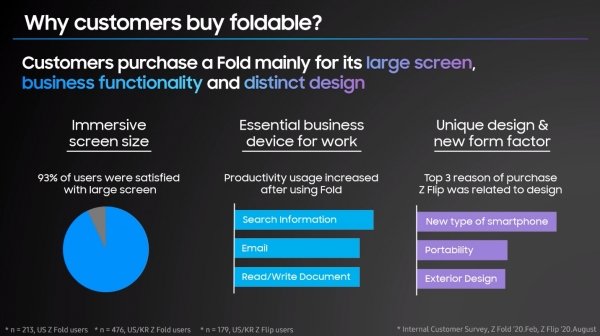 The Folds will take over as Samsung's premium phone line-up. That's why the Galaxy Z Fold3 will cost as much as the Fold2 and will be the one introducing cutting edge features like an under display camera (and inheriting old premium features like the S Pen).
And now that the teething issues of the hinge design have been solved, Samsung will look to shed some of the bulk for the Galaxy Z Fold3, which is expected in June. The demoted S-series will launch in January to have more time to rack up sales before the new Fold flagship arrives.
g
please with the spen more powerfull and the price is not a problem . thank you
Well even now as they are thick nd heavy screen MOHs scale is 2 for furability thinner phone gets maybe Mohs scale of 1 deeper groves at 0,5 or 0,25. And thinner device means smaller batteries but retaining same big screen. I am asking for what...
ADVERTISEMENTS