Android 6.0 Marshmallow with a new face
The Galaxy C9 Pro runs on the latest iteration of Samsung's TouchWiz UI based on Android 6.0.1 Marshmallow. It first debuted on the ill-fated Galaxy Note7 and featured a lot of minor UI improvements all around over the previous version.
Starting with the launcher, we see that Samsung is still very much committed to the homescreen + app drawer layout, complete with the app drawer button in the corner that is obligatory for Samsung phones. The leftmost homescreen is still taken over by Flipboard Briefing but that can easily be disabled.
The C9 Pro comes with 5x5 layout by default for the icons, which makes great use of the available screen space.
You can press and hold on the icons to get a small popup but instead of having some interesting app specific options such as on the Pixel launcher or 3D Touch on iOS, you just get the options to uninstall the app or to put it to sleep.
By default, all the icons have a square border around them, something Samsung picked up from the Chinese OEMs. The good thing is this can be disabled and you can just have the default icon shapes for every app if that's how you prefer them.
The app drawer still has the sliding pane design unlike the vertical scrolling in the Pixel launcher. You get folder support and by default most of the apps are grouped together in some folders.
You can choose to arrange the icons in alphabetical order, which doesn't upset your folders. When you have the apps sorted alphabetically, the new apps that you download no longer go to the end of the grid but instead fall into place in accordance with the alphabetical sequence.
The notification shade has also been improved with a row of toggles that does not slide horizontally as before and can be expanded by swiping down again. Being a dual SIM phone, you also get options to choose your default SIM for calling, texting and data but you can't change anything from here and tapping any of these opens the Settings app.
Unfortunately, Samsung has buried the brightness slider in the second level so you have to swipe down twice to adjust the brightness whereas previously you could just swipe once.
Additionally, Samsung continues to use a tiny Clear all button that requires way too much precision on the user's part to touch it without hitting the notification below which it appears.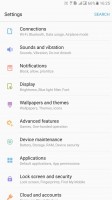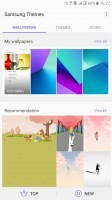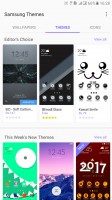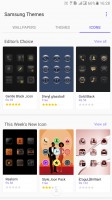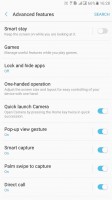 Settings app • Wallpapers, themes and icons • Advanced features
The new UI also comes with a new Settings app, which has a simplified structure and the top level menu items list some of the options contained within to make things easy to find. It's still quite convoluted, however, and you'll often need to use the search function to find things in here.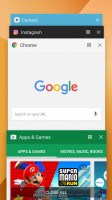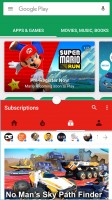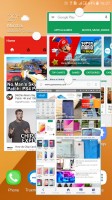 Multitasking • Split view • Pop view
Samsung has always been at the forefront when it came to having features built-into the UI. However, that has changed in recent times and they've dialed back on going too crazy with new features. They are instead focusing on mostly the tried and tested (and most of all practical) features.
We'll try and sum these up:
Split-screen mode, which would normally require you to have Android Nougat
Blue light filter
Easy mode for a simplified interface
Always-on display (AOD) feature that shows the time and date along with your notifications when the screen is off
Customizable icons and themes
Single-handed mode, which can be enabled by triple tapping the home button
Game mode, which automatically combines all your games in a single folder and provides options like suppressing alerts during gameplay, locking the tough keys under the screen, locking the touch input on the screen, taking screenshot of the gameplay or even recording the action as a video.
Locking apps on the device with your fingerprint or passcode.
Quick launch of the camera, which lets you start the camera by double pressing the home button.
Smart capture, which shows additional options for sharing, drawing, cropping and even taking a longer screenshot after you capture one
Direct call that calls the number on screen by simply picking up the phone and putting it against your ear
Smart alert, which vibrates the phone when you grab the phone if you have pending notifications
Easy mute, which lets you silence the phone by keeping your palm on screen or turning the phone over.
Unicode 9.0 emoji set, which Google introduced in stock Android only with Android 7.0 Nougat but is available here even though the C9 Pro runs on Marshmallow.
Finally, there is a background app monitor that puts apps to sleep if you don't use them often.
Then there are some frivolous features, such as swiping your palm on screen to take a screenshot. Or the Pop-up view gesture, which shrinks the current app down to a small window so you can run it on top of other apps. This one is yet to prove useful considering the screen is not big enough to have multiple apps on-screen at the same time. And finally, there is the ever-so-popular (and not really needed) storage and RAM cleaner.
But frivolous features is fine. What isn't fine is the amount of bloatware that comes installed. Samsung still insists on having the entire Microsoft suite pre-installed. That means Word, Excel, PowerPoint, OneDrive, OneNote, and Skype are just chilling there on your phone, taking up space. Naturally, you cannot uninstall any of them.
Then there's Opera Max, which is a VPN service that also compresses data. The app is probably not all that bad to have on its own but the phone will remind you to use it literally every single time you turn on Wi-Fi. In fact spam notifications are a bit of a concern on their own, as there seem to be a myriad different apps and services on the phone that will spit notifications at you every now and then. You also cannot disable some of these apps or stop them from showing notifications.