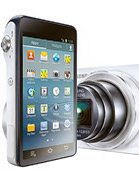 N
Yeeesssss!!!
Congratulations Samsung!!! This gaget should get a good market share for you! A very interesting device, with a bold conceptiond. Yes, this can be the new generation of smart phones. An powerful universal gaget! Good luck!
M4143317
Oh Samsung why don't you make a super camera phone as you did in the past? You're able to do that. In 2006 you made a miracle with the B600 device!
Total of 963 user reviews and opinions for Samsung Galaxy Camera GC100.