Android Pie and One UI retrofitted for the Fold
For starters, the Samsung Galaxy Fold boots Android Pie, but you won't be seeing much of its original skin, if any. The Fold has the company's latest proprietary launcher called One UI - the one on the S10 and updated S9 series, but for the Fold it has been enhanced in numerous ways.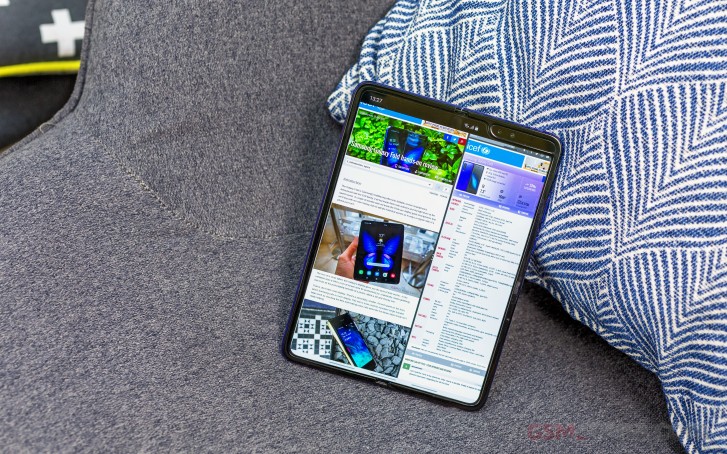 Don't be alarmed, though. It's as any other Android launcher we've met. It's just that the Fold is an entirely new breed of a device, and the software needed some tweaks for a more meaningful user experience. Samsung appears to have done a lot of things right in this respect from the very start.
Samsung's Always-On Display has been one of our favorites, it's turned on by default and available on both screens though we doubt you will use it on the large display. It can also be not-so-always-on - now you can have it displayed only when you double tap on the screen, in addition to being able to setup a daily schedule as before. You can, of course, you know, keep it always on. You can choose different clock styles and font colors, (auto) brightness, and what notifications to be displayed.
The lockscreen is the same for both cover and tablet displays, excluding the wallpapers that is. And you can unlock the phone via a fingerprint or a face. The fingerprint scanner is always on, blazing fast and with excellent recognition accuracy. The Face Unlock on the other hand is less secure as it's based on the selfie snappers alone. You can prioritize one before the another.
You do get entirely separate homescreen layouts for the cover screen and the tablet, complete with different wallpapers. That way you can keep your dialer on the outside and don't have it in the way of more useful apps on the 7.3-inch screen.
Speaking of dialer, if you're on a phone call with the phone folded, and decide to unfold it, it's smart enough to switch to speakerphone - we appreciate Samsung's subtle way of saying 'don't put a tablet to your ear'.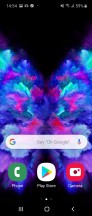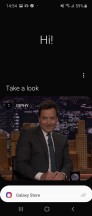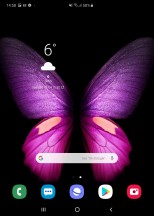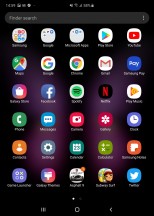 Homescreen (cover) • App drawer (cover) • Homescreen (tablet) • App drawer (tablet)
The fold/unfold action makes for a rather smooth transition between the front and rear screens too. Currently, it works on Samsung's native apps and the Google suite, but it'll switch almost instantaneously, and it'll even take you to the same position on the page where you had scrolled to on the other display. But note that this works only from cover to tablet and not the other way around. If you fold the screen, then everything is paused, and the phone goes to locked state.

The whole One UI looks are translated to the Galaxy Fold. The new notification shade with toggles and the refreshed task switcher are onboard, too. In fact, the app switcher is probably the one place you will need the most.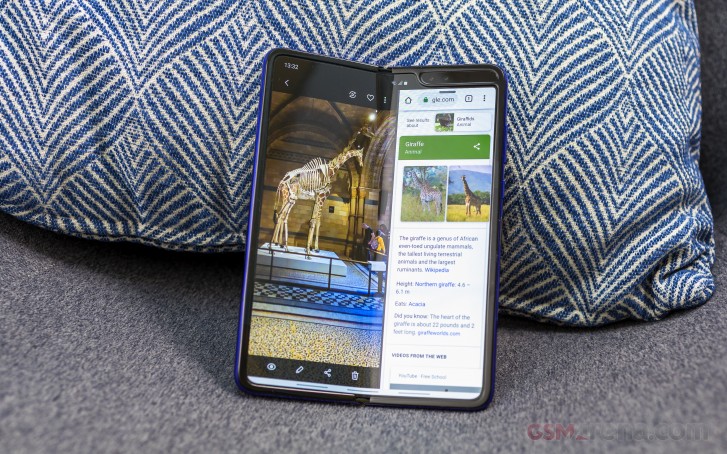 In the tablet state you get multi-window multitasking and we're talking multi-window. While in an app, you can swipe in from the right to pull a drawer of compatible apps. You start with a trivial side-by-side split, but you can expand that to one big window with two small ones.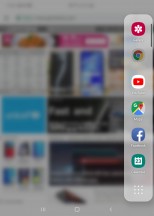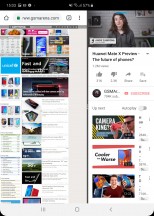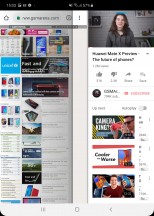 The sidebar • Multi-window in portrait mode
Multi window also works in landscape, where you'd even have more useful aspect ratios for your apps.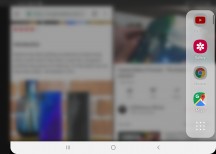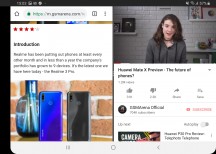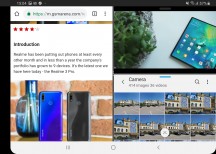 The side-bar • Side-by-side • Three windows
You can also pile several pop-up windows on top. Perhaps a bit overkill if taken to the extreme, but the option is there.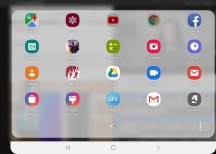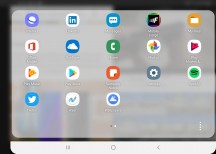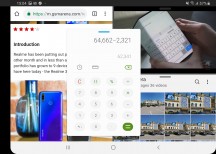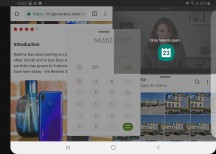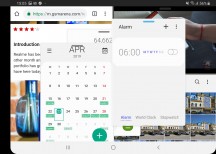 Available pop-up apps • Available pop-up apps • Piling pop-up apps
You can change the transparency and window size for each pop-up app. You can minimize them and then bring them back when needed. All pop-up apps appear in the task manager but they are also stacked in a small floating window as icons, which is the thing that will help you control or close those.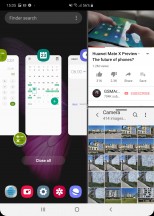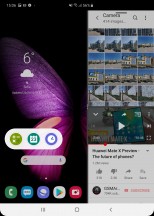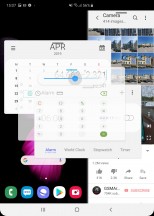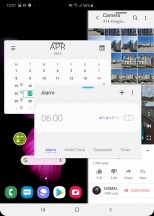 Pop-up apps in task manager • The pop-up apps floating bar • Transparency • Minimized app
If you have filled the screen as we did and decide to close the Galaxy Fold - all of the apps would simply pause and the phone gets locked. If you unlock the cover screen - it will be empty. If you open the Fold you will also end up on the homescreen - but you will notice a small white marker on the right side. Pull it and it will help you restore all previously opened apps in multi-window and floating mode.
Typing is easy on the Galaxy Fold. Well, not so easy on the cover screen, but we can't imagine anyone in right mind doing this to oneself. So, there are three typing modes on the Fold - a regular keyboard, a split-screen keyboard, and even a floating keyboard. You can choose the size of the virtual keys, too.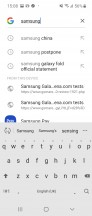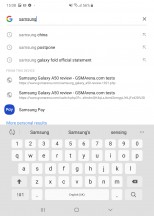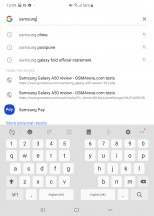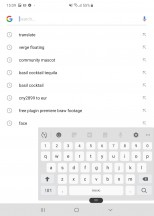 Keyboard (cover) • Portrait keyboard • Split keyboard • Floating portrait keyboard
And get the same keyboards in landscape view, too.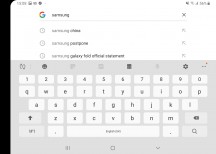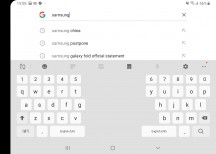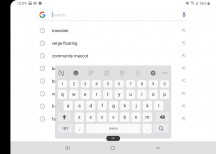 Landscape keyboard • Split keyboard • Floating Landscape keyboard
As before, Samsung's own take on the custom Android is full of features and pre-installed apps. We are overwhelmed, and it's hard to go over every one of them. And besides, there are plenty of carry-overs from the previous software versions. Some users may be annoyed with the heavy customization and set of pre-installed apps, especially if you are coming from a vanilla Android.
For multimedia you have the new Gallery app by Samsung for browsing photos and videos, while Play Music handles well, your music. There is also a proprietary My Files file manager app, Samsung Health app, Bixby assistant, among others.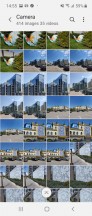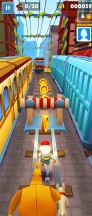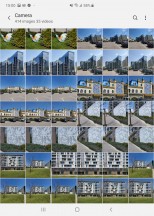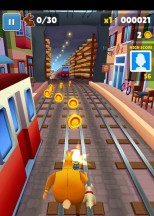 Gallery • Gallery • Subway Surfers • Subway Surfers
All default apps support native Continuity and they transition smoothly from cover to tablet screen.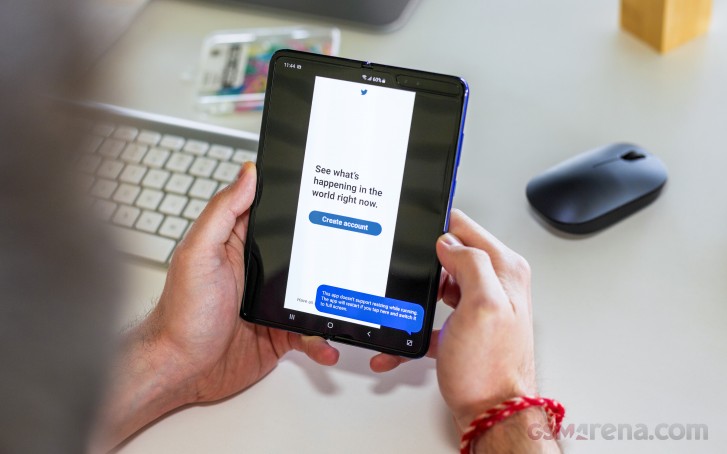 But apps that don't support the Continuity feature (where you'll open an app on the smaller screen and then unfold the phone to the larger one) will display huge black bars on either side of the app window once you unfold. We hope the most popular apps will be updated soon to fix that.
Everything else is One UI through and through. There is the usual notification shade, Google's Digital Wellbeing services are here, there are even Samsung's Game Tools for uninterrupted gaming, among many others.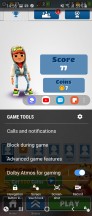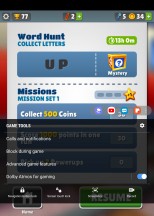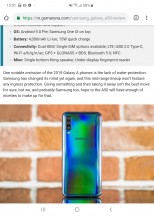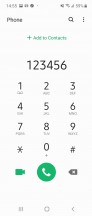 Gaming Tools • Game Tools • Web browser • Dialer
And if you combed through our screenshots, you've probably noticed that Night Mode is available on the Fold.
Some apps open in a default landscape orientation which prevents you from muffling your speakers - if you launch a landscape game and you're holding the Fold wrong side up, it'll simply display upside down so you'd be prompted to flip it around. To be fair, we've seen it on some Android tablets and there's a built-in provision for it in the OS, but it's nice that Samsung did choose to implement it.
One missed opportunity, however, is that when you're taking a photo with the rear camera in the unfolded state there's no viewfinder displayed on the cover screen and your subject can't see the framing. The Mate X does have a similar feature only there it works in the closed state due to the innie-outie differences. This one, in particular, could potentially be added later in software if there are people vocal enough wanting it. That is of course if the Galaxy Fold eventually makes it to the shelves.