Samsung Galaxy Note7's battery limiting update starts rolling out in Canada as well
After the US, Europe, Australia, and South Korea, Samsung has now pushed out Galaxy Note7's battery limiting update in Canada as well. The update, in case you aren't already aware, limits the device to a maximum charge of 60%.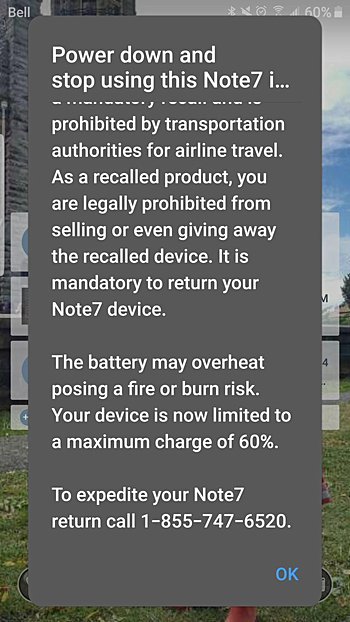 Post-update, Galaxy Note7 users in Canada should also see a reminder pop-up notification each time they charge, reboot, or turn on the screen of their device.
In case you missed, the South Korean company recently revealed that around 85% of all the faulty Note7 units sold in the United States have either been returned or exchanged. In the New Zealand, the firm announced that unreturned units will be disconnected from cellular networks.
?
anyone had to admit nothing can replace note 7 as of now at least s pen with ip68. if u put holding note 7 = holding bomb u are stupid. since almost any car with air bag are having same potential or greater danger or worst that not only "burn" but t...
B
Wow! Bunch of Phone Nazis.. You got more chance of get hit by a bus full of blue hairs going to play bingo than one of these blowing up on you. If you don't have one then it is none of your business move along kids...
A
Bomb being an explosive device that causes massive damage...like a grenade, but much larger. I dont recall ANY note 7s causing massive explosive damage. Fire, maybe....but if you can't figure out your phone is getting that hot before flames incur, th...