Pushing the envelope
Samsung Galaxy Note I717 review: Pushing the envelope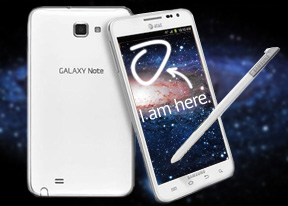 Final words
Like it or not, there is nothing else like the Samsung Galaxy Note I717 on the U.S. market at the moment. The Korean giant deserves a lot of credit for carving a new niche in a market, which is seriously saturated with all sorts of smartphones and tablets.
We love the screen of the device and its speedy LTE network. The S Pen can be surprisingly handy and entertaining as well. The rest of the device's functionality is unsurprisingly good.
The lack of the Exynos chipset from the global version cannot be left unnoticed. The AT&T Galaxy Note simply does not have the raw power of the original. It offers you LTE instead and, we believe, that the trade-off will still be in your favor.
If you are the type of person, who lugs around a smartphone and a tablet simultaneously, the Galaxy Note might just be the phone for you. The I717 gives you the opportunity to save a lot of space by having a device, which (almost) does it all.
If you are simply looking for a smartphone, the best advice we can give you is to go to an AT&T store, and try out the device yourself. It is the best way to find out whether it will be comfortable enough, as any other opinion will be quite subjective - there is simply nothing like it.
Or maybe there is one. If you are an AT&T customer, and live in an area with no LTE coverage, it is worth considering the Galaxy Note N7000. It is faster, looks different than all other U.S. only Samsung smartphones, and will offer you the same excellent functionality. Keep in mind however, that you will have to go with an unlocked device, which will set you back considerably more than the $299.99 contract price of the I717. Regarding the N7000, we are quite sure Samsung won't mind if you choose it over the I717.
We are curious to see how the Galaxy Note is going to perform in the U. S. market, where large screens are more or less the norm. The phoneblet is big, bold, and like nothing else - a formula, which will likely serve it well.