Samsung's One UI based on Android 9.0 Pie
All three Galaxy S10s come with the brand new One UI based on Google's latest iteration of the Android OS. It's once again Samsung's take on the whole user experience with heavy customization and tons of old and new features.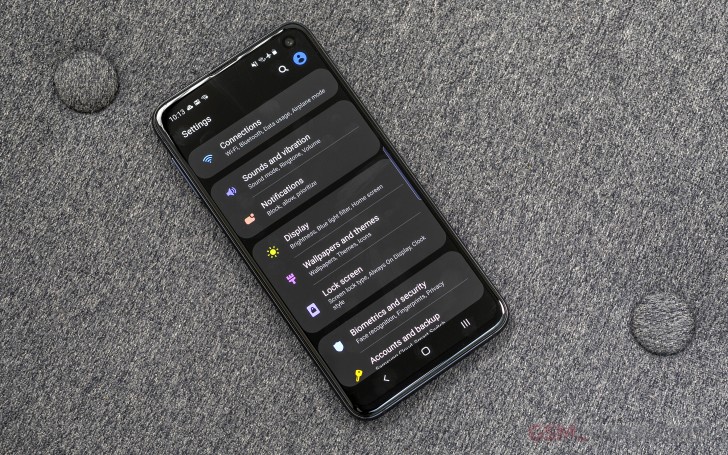 If you've used Samsung UX over the past few years, you will probably work your way around easily. However, there are a couple of major revamps that may seem strange or even uncomfortable at first but we think it's for the best.
Aside from the colorful new icons that might not be to everyone's taste (luckily, you can swap the default ones with another icon pack), Samsung has implemented numerous changes towards more effective and comfortable one-handed use. Now all system menus, including the drop-down menu with all the quick toggles, are located on the bottom half of the screen, so they are within reach of your thumb. It takes some time getting used to, but we think it's a pretty smart solution.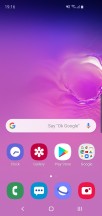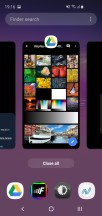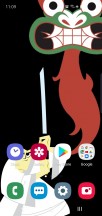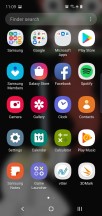 Home screen, recent apps and app drawer
Speaking of one-handed use, there are still some small tidbits that Samsung forgot about. For example, the app folders still open in full-screen with the icons placed on the upper half of the display, which means you'll have to use your other hand to reach them.
Curious enough, even though the Galaxy S10e doesn't have curved edges of the display, the Edge panels remain. They are free to customize, re-arrange, add, remove or even disable the feature. The Edge lighting effect for notifications is here to stay too.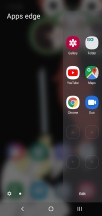 Display settings and Edge panels
And just like everyone else, Samsung has its own way of implementing Google's new gesture-based navigation. But to be honest, Samsung's gestures are just glorified swipes. They work as conventional buttons - swiping from the bottom-left brings out the recent apps menu by default and swiping from the bottom-right takes you a step back. You can swap them in the settings menu, but the home button remains as a single swipe from the bottom-center. If you swipe and hold, it will summon Google's Assistant.
In the end, Samsung saved a couple of pixels on the bottom, but the gestures still feel half-baked.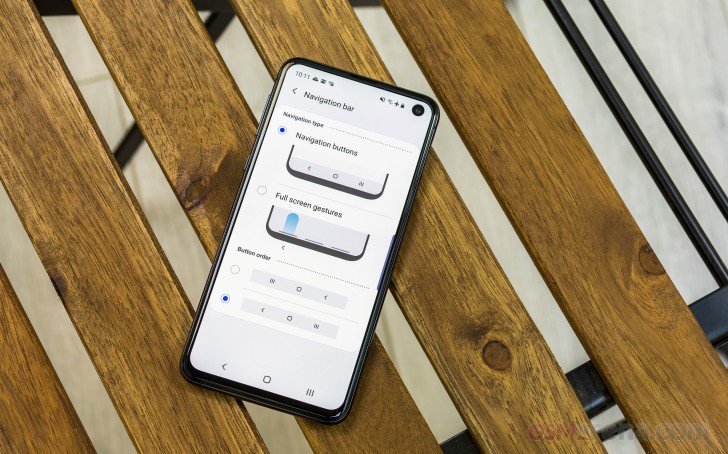 What doesn't feel half-baked, however, is the Always On Display feature. It gives you tons of options, and you can even set how bright it can get or set it to auto. It's especially useful when you are in a dark room. And if you don't care much about battery life and you are close to a plug almost all day, then maybe consider turning on the Always On wallpaper - it looks cool but kills the battery as more pixels on the screen need their juice.
In line with the rest of the UI changes, the general Settings menu has been revamped too. It's pretty compact, and some of the settings you might be looking for have ended up elsewhere. For example, the Device care sub-menu now accommodates the Battery settings and information, storage and memory management and the security features. Tapping on the Battery icon will open up the familiar battery menu full of settings and adjustments. Aside from the usual info and features which you'd find on pretty much every other Android handset, Samsung has added a couple of additional options.
You have three power modes - Optimized, Medium-power saving and Maximum power saving. Optimized is the default one with performance cranked up to the maximum. In the upper right corner of the battery menu sits another sub-menu giving you more granular control over your power consumption. For instance, you can disable notifications so the system won't keep background processes running while the rest of the settings involve putting apps into a deep sleep or even disabling depending on your usage. This is also the menu that lets you disable the fast charging feature on this phone, which is probably a good idea for prolonging the battery's lifespan if you are already charging your phone overnight and don't care about the time it takes the phone to charge.
Speaking of granularity, the Advanced menu gives you the option to set notifications to pop-up in a small view with which you can interact.
Google's push for the so-called Digital well-being has reached Samsung's One UС too. If you were ever wondering how much time you spend on your phone and which apps you mostly used, the Digital well-being sub-menu would give you the details. It's cool, but it will probably stay unused by most users.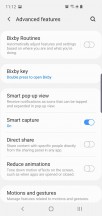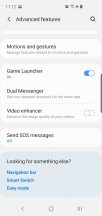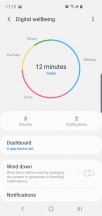 Advanced settings and Digital Wellbeing
As before, Samsung's own take on the custom Android is full of features and pre-installed apps. We are overwhelmed, and it's hard to go over every one of them. And besides, there are plenty of carry-overs from the previous software versions. Some users may be annoyed with the heavy customization and set of pre-installed apps, especially if you are coming from a vanilla Android.
And although not perfect, we kind of like where Samsung is going with this. It's addressing an issue that's been overlooked for quite some time since the new wave of huge smartphone displays. One-handed operation on the One UI is much more pleasant and comfortable. Oh, and the inclusion of the Night mode was a long-awaited feature for more than just a few users. Only using the phone's UI as a daily driver will help establish a more objective opinion but we like what we see so far.
The most important thing is that we didn't feel any hangs, slow-downs or particularly annoying bugs. And when speaking of hangs and slow-downs, it's maybe time to say a few words about the heart of the Galaxy S10e - the Exynos 9820 chipset.
Performance and benchmarks
Like always, Samsung's flagship S10-series are all powered by the latest and greatest the industry can offer. Depending on your region, you will get Qualcomm's Snapdragon 855 chipset or Samsung's in-house Exynos 9820 chip. As per tradition, we got the Exynos 9820 version.
It's based on Samsung's 8nm manufacturing process and accommodates an octa-core CPU featuring 2x custom Mongoose M4 cores clocked at 2.7 GHz, 2x Cortex-A75 cores running at 2.4 GHz and 4x Cortex-A55 cores running at 1.9 GHz for improved efficiency. The GPU onboard is Mali-G76 MP12. The chipset is paired with either 6GB of RAM and 128GB of internal storage or 8GB/256GB.
GeekBench 4.1 (single-core)
Higher is better
Apple iPhone XS
4823
Apple iPhone XR
4818
Samsung Galaxy S10
4543
Samsung Galaxy S10+
4522
Samsung Galaxy S10e
4518
Xiaomi Mi 9
3503
Xiaomi Pocophone F1
2438
Google Pixel 3
2377
Although from day-to-day tasks the performance difference between the Exynos 9820 and the Snapdragon 855 won't be noticeable, the single-core performance in synthetic benchmarks is far superior to the Snapdragon 855. It's almost as good as Apple's A12 Bionic. Of course, we blame the huge Mongoose M4 cores for this one.
GeekBench 4.1 (multi-core)
Higher is better
Apple iPhone XS
11472
Apple iPhone XR
11437
Xiaomi Mi 9
11181
Samsung Galaxy S10+
10387
Samsung Galaxy S10
10174
Samsung Galaxy S10e
10081
Xiaomi Pocophone F1
9003
Google Pixel 3
8146
But in multi-threaded operations, the Exynos 9820 is pretty much on par with the rest of the top-end chips, including the Snapdragon 855.
AnTuTu 7
Higher is better
Xiaomi Mi 9
372006
Apple iPhone XS
346379
Apple iPhone XR
341196
Samsung Galaxy S10+
333736
Samsung Galaxy S10
328366
Samsung Galaxy S10e
325192
Xiaomi Pocophone F1
265314
Google Pixel 3
233699
GFX 3.1 Manhattan (1080p offscreen)
Higher is better
Apple iPhone XS
98
Apple iPhone XR
97
Xiaomi Mi 9
70
Samsung Galaxy S10+
69
Samsung Galaxy S10
68
Samsung Galaxy S10e
67
Xiaomi Pocophone F1
60
Google Pixel 3
57
GFX 3.1 Manhattan (onscreen)
Higher is better
Apple iPhone XR
60
Apple iPhone XS
60
Samsung Galaxy S10e
57
Xiaomi Mi 9
56
Google Pixel 3
55
Xiaomi Pocophone F1
53
Samsung Galaxy S10+
37
Samsung Galaxy S10
37
GFX 3.1 Car scene (1080p offscreen)
Higher is better
Apple iPhone XR
60
Apple iPhone XS
60
Samsung Galaxy S10
43
Samsung Galaxy S10e
42
Samsung Galaxy S10+
42
Xiaomi Mi 9
42
Google Pixel 3
35
Xiaomi Pocophone F1
35
GFX 3.1 Car scene (onscreen)
Higher is better
Apple iPhone XR
58
Apple iPhone XS
47
Samsung Galaxy S10e
40
Xiaomi Mi 9
35
Google Pixel 3
33
Xiaomi Pocophone F1
31
Samsung Galaxy S10+
23
Samsung Galaxy S10
23
Aztek Vulkan High (onscreen)
Higher is better
Apple iPhone XR
60
Apple iPhone XS
36
Xiaomi Mi 9
23
Samsung Galaxy S10e
20
Google Pixel 3
17
Samsung Galaxy S10+
13
Samsung Galaxy S10
13
In graphically-intensive applications, the Mali-G76 MP12 GPU is just as good as the rest in the industry although it falls short a few frames against Apple and Qualcomm's chips. Also, on the onscreen tests, the Galaxy S10e manages to overtake its bigger siblings, the Galaxy S10 and S10+, due to the lower screen resolution. The GPU has fewer pixels to worry about so the FPS goes through the roof.
Basemark OS 2.0
Higher is better
Apple iPhone XS
6060
Apple iPhone XR
5908
Xiaomi Mi 9
5346
Samsung Galaxy S10+
4568
Samsung Galaxy S10e
4470
Samsung Galaxy S10
4465
Google Pixel 3
3909
Xiaomi Pocophone F1
3713
The Exynos 9820 surely is a flagship SoC that can handle pretty much everything you throw at it. The battery tests confirmed that it's fairly efficient too. You can also consider it as a long-term investment as the chip is so powerful, it won't have any issues crunching numbers for the next few years.
It will be interesting to see how the Exynos 9820-powered variant compares to its Snapdragon 855 counterpart, and we will make sure to check that out once we have the chance.