Assuming we are to believe everything we heard so far about the Galaxy S3, and especially the leak in the KIES system, which is as good as official, the model name for Samsung's next flagship will be the I9300.
So today there is this leak, which shows the Samsung GT-I9300 service manual, so it should be nothing else but the S3, right?
Well, yes, assuming the manual is legit in the first place. But since we only got here after so much assuming, we'll let you decide whether that sketch of a phone is the final design.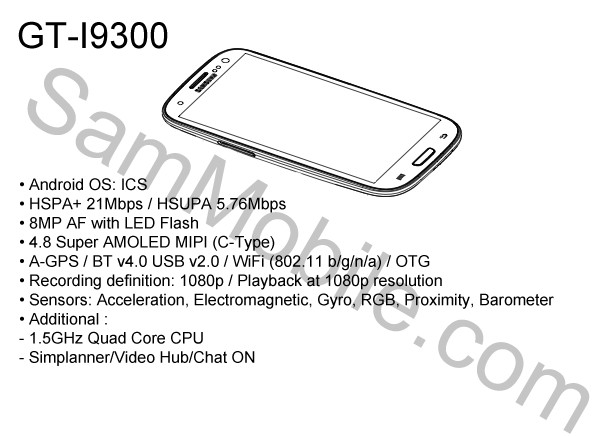 Regarding the specs, we are not that sure. Nothing there seems that much out of the ordinary, but the screen so far has only been rumored as a 4.6-incher and at 4.8 inches it's would be closer to the Note than to the regular phone lineup. For all we know, the whole leak could be bogus so take it with a pinch of salt. Anyway, we'll know the real specs come next week.
z
Yep,this is it.Some leaked pictures show the same home button with both touch sensitive buttons,rounded corners,4.8" screen(maybe 1280x800 but for shure 1280x720),...
?
Lol. I'm gonna take that as a joke? A PSP? Lmao. I wish Sony would make the advancements in PSP that Samsung uses in their device. Though the Vida finally brings some long awaited needs. It lacks a lot with software and certain hardware and is techni...
ADVERTISEMENTS