A camera shootout
Galaxy S6 edge vs. Galaxy Note Edge: A camera shootout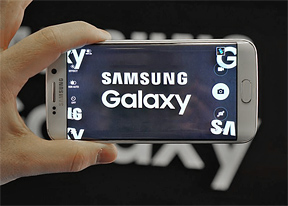 Panorama
Samsung has one of the best panorama software around and we wanted to see if it has improved since the Galaxy Note Edge. Both cameras produce stunning resolution - the final image is over 3,000px tall and wide enough to complete a full 360° circle.
There are tons of detail in each shot and no stitching issues, especially when there's nothing moving. The Galaxy Note Edge carries the stronger saturation from the still camera into its panorama. The Galaxy S6 edge once again does a better job in rendering foliage.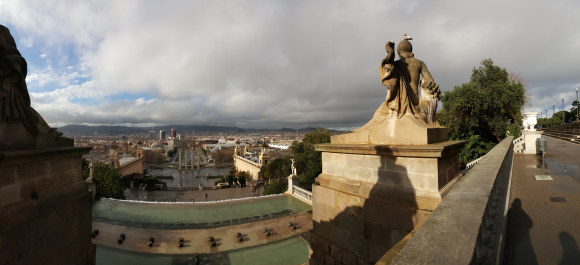 Samsung Galaxy S6 edge panorama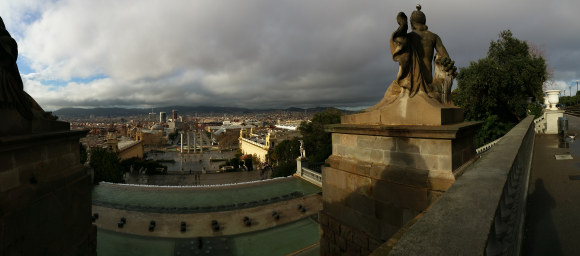 Samsung Galaxy Note Edge panorama
Video comparison
Both Galaxy Edge devices shoot video up to 2160p at 30fps. Both use 48Mbps total bitrate and record quality stereo audio at 256Kbps bitrate and 48kHz sampling rate.
You can watch the two videos below - we shot them simultaneously - but for a quick comparison we made a crop. The Galaxy S6 edge camera again captures a bit more of the scene, it has a wider lens.
The Samsung Galaxy S6 edge video appears slightly sharper and the compression is smoother, the Galaxy Note Edge shows traces of compression artifacts.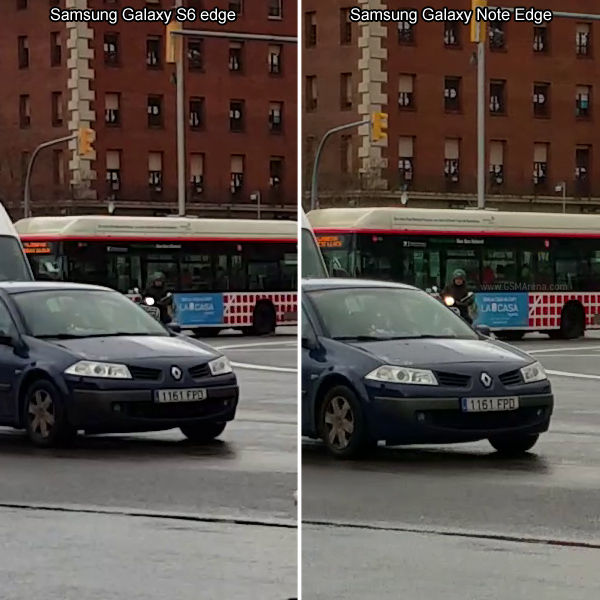 The audio in both videos is rich and offers good stereo separation. You can listen - and watch - both videos below:
Video stabilization
The Samsung Galaxy S6 and S6 edge brings optical image stabilization (OIS), which debuted on the Galaxy Note 4. The S6 duo also has digital stabilization that can be used in conjunction with OIS to make videos even smoother. You can disable the digital stabilization, but the optical one is always on.
There are two times when the digital stabilization is forced off - when shooting 2160p or when using the tracking autofocus.
Anyway, we compared the Galaxy S6 both with digital stabilization on and off and put it against the Apple iPhone 6, which relies on digital stabilization only. First with optical stabilization only:
And now with digital stabilization on (this time against Instagram's Hyperlapse):
You may remember we already shot this setup, but we returned for seconds. With OIS only the up/down wobbling motion caused by is still visible. Enabling digital stabilization dampens this movement and leaves only a very slight floating motion.