A new report allegedly all but confirms that Samsung Galaxy S6 will feature a version with curved edge-like display on both sides. The upcoming handsetís screen will mark a step forward from the currently available Samsung Galaxy Note Edge.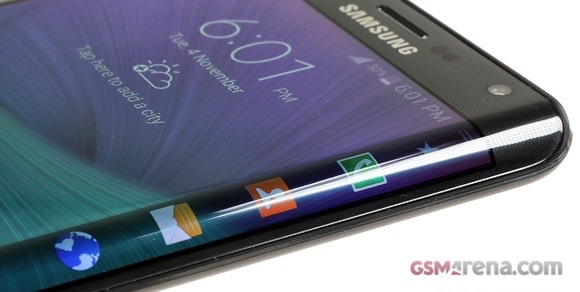 The dual-edge Samsung Galaxy S6 is tipped to sport the model number SM-G925. When announced, the previously rumored smartphone will likely be known as Samsung Galaxy S6 Edge.
Samsung Galaxy S6 Edge will utilize similar interface for its side panels as the Note Edge. Users will be able to quickly glance at Yahoo! news and financial information, S Health data, notifications, and night clock among others.
The deviceís unique display setup will offer new features as well. They include Glance Lighting and color-coded favorite contacts. Additional apps will also be available to download from the Samsung app store.
A dual Edge display means that this particular Samsung Galaxy S6 variant will appeal to both left and right-hand users. Samsung Galaxy Note Edge is better suited for use with the right hand.
Samsung Galaxy S6 Edge will likely debut around MWC this year.
?
LG just following Samsung really. Samsung started she'd devices and everyone knows they have been working on dual edged. LG just rushed their prototype out.
?
I think this step is logical, they could supress the lower buttons to increase the screen size.
?
Also, Samsung 'utilizes' OLED technology just as many others. They did not necessarily invent it. Samsung being a big company that utilizes OLED to their devices by the millions which contributed OLED's growth and popularity up front. No wonder one w...